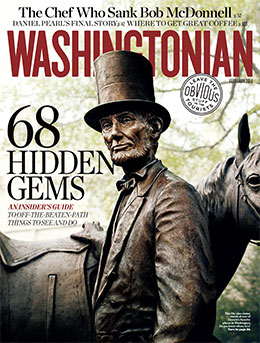 Volume 49, Number 5
Cover Story
Hidden Gems
Want to play tourist in Washington but feel like you've seen everything? Chances are you haven't. Here are little-known finds: fascinating museums, fun tours, gorgeous gardens, under-the-radar restaurants, and more.
Edited by Sherri Dalphonse
Features
How to make tuna fish not taste like tuna fish—and other tales of serving Virginia's disgraced first family. By Luke Mullins
She spent a decade chasing her friend's killer, Khalid Sheikh Mohammed. Then she went to see him at Guantánamo Bay. By Asra Q. Nomani
Heiresses, politicians, and the FBI used to have Alen Salerian on speed dial. Not anymore. By Ariel Sabar
Capital Comment
Captured—or not—by Wall Street . . . Trysting spots, power couples, and a timeline of love in Washington . . . A chat with Deborah Rutter, incoming head of the Kennedy Center . . . When the Beatles came to Washington.
Behind the Scenes Inside District Growers, a greenhouse for medical marijuana.
Where & When
Alvin Ailey American Dance Theater at the Kennedy Center . . . Beaches, a new musical based on the Bette Midler movie, at Signature . . . Kathleen Turner in Mother Courage at Arena . . . Star Trek's George Takei joins the BSO at Strathmore . . . Kings of Leon at Verizon . . . "American Cool" at the Portrait Gallery . . . DC Independent Film Festival . . . Mandy Patinkin and Patti LuPone at the KenCen.
I.Q.
The Web Bully's Worst Enemy When companies try to push their online critics around, Paul Levy pushes back. A Ring of His Own Local boxer Dusty Hernandez-Harrison is learning to fight for himself. What Made Me Once an outsider in the family hotel empire, Commerce Secretary Penny Pritzker talks about her turn to public life.
Taste
Hot Ticket Everyone is clamoring to try the around-the-world cooking at Rose's Luxury on Capitol Hill. Plus—gussied-up blue-plate classics at Spike Gjerde's Shoo-Fly Diner in Baltimore, New York chef Michael White's new Italian restaurant in DC's Navy Yard, and ten restaurants we're looking forward to in 2014. A Caffeine Lover's Guide to Washington A coffee fan's quest to find out how his favorite beans got to be so good, coffee shops worth visiting, good homebrew methods, and best bets at the chains.
---