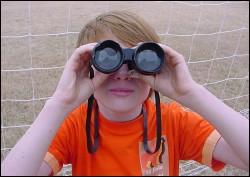 You film buffs out there probably already know that the DC Independent Film Festival kicks off this Thursday, March 1, featuring more films than you can shake a stick at—more than 100 features, animations, shorts, and documentaries over 11 days. There will also be 30 themed film showcases; loads of panel discussions on subjects from advocacy to legal issues in film; and an independent music festival in tandem with the filmfest.
What you might not know is that, through the rest of today, the DCIFF is offering a two-for-one-special on tickets to all the films. Here's how it works: Purchase a ticket online to the film of your choice before or on Wednesday, February 28 (that's today, folks), when the two-for-one special ends. Bring the ticket to any screening, present it at the box office, and get a second pass free. Nifty, eh?
To check out trailers of some of the films playing at the festival, go to the DCIFF Myspace page. A schedule of events can be found here, and directions and location info—it's on the campus of the University of the District of Columbia, 4200 Connecticut Ave., NW—are here. Descriptions of films and times are located here. Individual tickets and full passes are $11 to $226; seniors and students $8 to $201. Call (202) 537-9493 for more info.
What films are you interested in catching? Let us know in the comments.