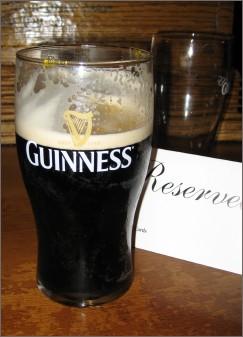 In preparation for St. Patrick's Day, Fadó in DC's Chinatown held its third annual Perfect Pint Pouring Competition Tuesday night. Contestants were bartenders from Irish pubs across DC, including Fadó, Kelly's Irish Times, Finn macCool's, and Biddy Mulligan's.
The rules: Each competitor poured two "perfect pints" and one "creative" pint—which seemed to entail just about anything the contestant could think of, from the traditional bartender's art of creating icons in the beer's head to wild theatrics. Contestants had to use proper pouring techniques, not allowing the tap to touch the glass and without using body parts. Explained Fadó owner Greg Algie, "We have been quite offended in the last few years with the body parts coming out." As it turned out, the former champion's signature pint had been called "Mother's Milk," and its pouring had had involved a certain part of her anatomy.
Amidst cheers of encouragement from the crowd ("Put it in the glass!"), the contestants tipped the taps, waited patiently for the Guinness to properly settle, and carefully topped off their pints. The judges—Jim Duffy, Guinness' quality manager for the Northeast; former Guinness quality specialist Steve Carnes; and Declan Murphy, an Irish regular who is very particular about his pints—carefully examined each glass of stout and marked down scores. Read below for more.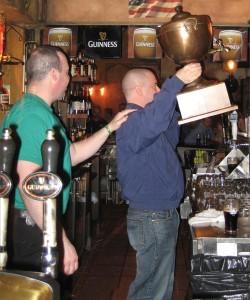 Things got really interesting during the creative portion of the competition, which featured everything from the drawing of a harp in the beer's head to the singing of a (mangled) version of the Star Spangled Banner to a big bartender in a tiny T-shirt (which he later ripped off in Hulk Hogan fashion). The creative pints were auctioned off (one went for $200) to support children's cancer research.
Though they were mainly Americans, contenders also hailed from Northern Ireland and even India. The Indian contestant, Kiran, who poured the first Guinness of his life, said it was "for all the non-Irish people that like beer"; for his creative entry he made a "curry pint"—simply a Guinness with curry powder sprinkled on top. The winner, Vanessa Rodriguez of Fadó, finally took home the prize after two years in second place—she received a trip for two to Las Vegas. Matt Croke of Biddy Mulligan's, the second-place winner, earned an iPod nano, and Michelle Craddock, who bartends at Irish Channel, got an iPod shuffle.