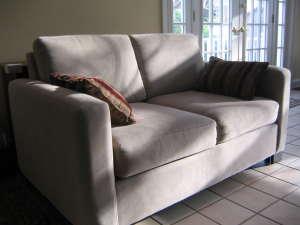 This classic-looking love seat from West Elm, a contemporary furniture chain owned by Williams-Sonoma, is going for $300. The brushed-cotton twill upholstery is stain resistant, and the poster claims it's just three months old. It's 58-by-36 and retails for $800.
More good finds:
• Teak bench from Storehouse for $600
• Cherry magazine rack for $100
• Dining room table with six chairs for $950
• Oak TV stand for $170
• Wooden credenza for $450
• Black sofa for $300
Thanks, Craigslist!