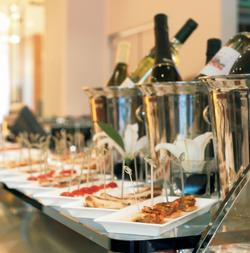 By day the ladies who lunch—and shop—hold sway. At night, young couples and parents on "date night" fill the tables at this cafe that's almost as glam as the shops around it (Max Mara, Gucci, Barneys Co-op).
The good news? Chic comes cheap in this large, sometimes noisy space with its mosaic wall and glowing amber panels. You find it in a well-dressed salad of endive and radicchio with sweet Gorgonzola, grapes, and grape must; in a Napoleon-like lasagna Bolognese made with Angus beef; in the paper-thin slices of speck, proscuitto di Parma, and Italian-Rovagnati cooked ham on the antipasto platter. On the down side, pizzas may not be as deftly turned out as the ones at 2 Amys and Pizzeria Paradiso, and desserts tend to show better than they eat.
We're hoping that last summer's vitello tonnato—razor-thin slices of veal with silken tuna sauce—will reappear on the menu.