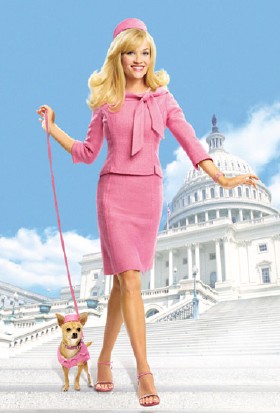 OMG, Jenny is so Elle Woods! (Or so we
imagine.) Photograph courtesy of MGM
Jenny—a.k.a. Capitol Hill Barbie—is a local fashion and beauty blogger who keeps her identity under lock and key. She grew up in New York but moved to DC six years ago for law school. On the first day of her post-law-school job, she overheard someone call her Capitol Hill Barbie, referencing the movie Legally Blonde 2, in which Reese Witherspoon's character is called just that. The name stuck, and Jenny now uses it as her online handle.
It's more than appropriate for her blog, in which she writes about fashion, beauty, and style. She started it two years ago as a way to take a mental break from her "serious" day job—Jenny currently works at a nonprofit doing lobbying and federal regulatory advocacy. "I've always loved makeup and fashion," she says. "Though truly, I just wanted to blog as an excuse to buy more makeup."
We invited the 28-year-old newlywed—congrats, Jenny!—to let down her hair for a few minutes and chat about all things style. We got the skinny on her favorite spot to buy cosmetics, her best trick for a quick makeover, and her biggest fashion pet peeve.
Must-have makeup item: Black mascara. My eyelashes are very blond, and without mascara I look a little like an albino. My current favorite is Maybelline XXL Volume + Length.
Makeup item you always splurge on: Lip-gloss. I can always find an excuse to pick up another lip-gloss or sheer lipstick, and part of the fun is spending hours trying out as many as I can on the department-store cosmetics floor.
Finish this sentence: "I never leave home without my . . ." Smith's Rosebud Salve. It's a fantastic lip balm, doubles as a lip-gloss in a pinch, and can soothe dry skin in the winter.
Favorite cosmetics store: Bluemercury in Georgetown. They have a good mix of great products, but it's an edited selection, which is more manageable than Sephora. I wish they would carry Bobbi Brown like the new New York location, though.
Best trick for a quick makeover: Cream eyeshadow is great because you can smudge it on without any tools and layer it to intensify it for night. But a little can go a long way to make you look polished for daytime. I'm currently in love with Bobbi Brown's versions in Sand Dune and Galaxy and MAC Paint Pot in Bare Study.
Hours spent prepping for a night on the town: I can go either way. I have spent an hour-plus getting ready, but I can also go from zero to ready in 15 minutes flat.
Biggest fashion pet peeve: When people slavishly choose one look for a four-to-six-month stretch. I hate going out at night in DC and feeling like every girl looks exactly the same.
Best beauty secret: Less is more. Coco Chanel's adage about taking off one accessory before you leave applies to makeup—a little restraint can go a long way.
Best neighborhood for shopping therapy: It's not exactly original, but Georgetown, mostly because it's so close to my apartment! I also love the block of M Street between Thomas Jefferson and 31st streets, which I call Makeup Alley. I can hit MAC, Sephora, and Bluemercury, then head down to Baked and Wired for a snack and play with all my purchases.
Favorite boutique for a splurge: I love the selection at Relish in Cady's Alley, which carries all the best from Marni, Proenza Schouler, Dries Van Noten, and Nina Ricci. They have a sale twice a year, which brings some prices down to my splurge level.

Favorite spot for designer looks at bargain prices: I'm a big fan of Zara for European designer look-alikes and browsing Inga's Once Is Not Enough on MacArthur Boulevard for high-end consignment.
Favorite salon: Serenity Day Spa in Tenleytown for my hairstylist, Paul. I also like Jessica B. Salon in Georgetown for a manicure and pedicure.
Prada or Chanel? Chanel. Sometimes Prada can get a little out there, but Chanel is always in style.
Manicure or pedicure? Pedicure. It always looks better when done by a professional. I can fake my way through a decent manicure.
Lip liner or eye liner? Eye liner. I've never really understood lip liner.
Highlights or high heels? High heels. I have an unhealthy obsession with shoes and love eking out an extra few inches of height.
Elle or Vogue? Vogue because I live in mortal fear that Anna Wintour will hunt me down like a dog if I cancel my subscription.
Favorite place for fashion people-watching: The Metro. You see all types.
Best makeup trend of the summer: Shimmery makeup, especially at night.
Worst makeup trend of the summer: It's a tossup. Neon nail polish, which looks great on Rhianna but not so great on C-SPAN. And self tanner, which always looks fake. I'm sorry, someone had to say it.
Best season for fashion in DC: Spring. Something about the breezy days makes everyone get excited about looking good again after trudging through winter wearing way too many layers.
Favorite local fashion and beauty blog besides your own: All About the Pretty for beauty and Project Beltway for fashion.
Next week in the Blogger Beat, we get our cooking on with Culinary Couture blogger Lemmonex. She shares her favorite recipes, her go-to spot for a dinner out, and her tips for losing weight while still loving food. (The girl did lose 65 pounds, after all!) Check back next Wednesday for the interview!
Earlier Blogger Beat interviews:
DC Rock Club
Metrocurean
All Blogger Beat interviews
Have a favorite local blogger you'd like to hear from? Send an e-mail to eleaman@washingtonian.com.
More>> Capital Comment Blog | News & Politics | Society Photos