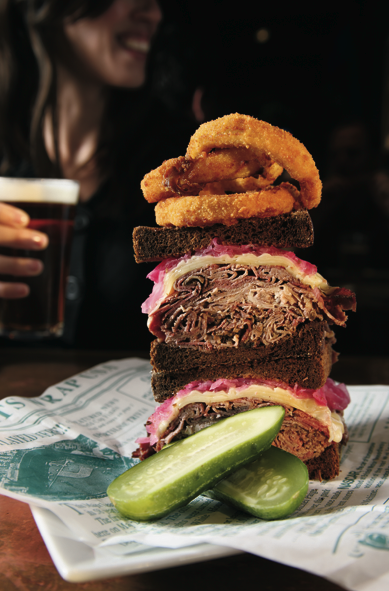 Located next to an angler's supply shop in an Arlington strip mall, the new sports bar Thirsty Bernie feels like a trip to Wisconsin. Customers dressed in shorts and faded tees hunker down over beers and brats at the bar. For entertainment there are 15 flat-screen TVs tuned to sporting events from NASCAR to bowling to baseball; on slow nights there's The Bachelor.
It couldn't feel farther from K Street, which is where until last October you'd have found Thirsty Bernie's chef, Jamie Stachowski, running his much finer dining room, Restaurant Kolumbia. There Stachowski gained renown in the food world—and on The Washingtonian's 100 Best Restaurants list—for his robust Eastern European cooking, house-made charcuterie, and love of all things meaty; the restaurant even had its own curing room, known as the "man cave." The place, though, felt like an odd fit on K Street—a cheffy independent stuck among the expense-account dining rooms of Lobby Land. When the suits cleared out after lunch, tables were hard to fill.
Stachowski hasn't had that problem here. The place gets crowded early with families young and old, klatches of beer-drinking guys, and foodies who go home and rave or rant about their meals on online message boards. Which hasn't necessarily been a good thing. Although the food is far simpler than what Stachowski turned out at Kolumbia, a good bit of the menu could use more time for fine tuning.
Take the beef on weck ($11). The Germanic—by way of upstate New York—roast-beef sandwich seems primed for the Stachowski treatment. But the meat on one sandwich was nearly all fat, and the flimsy kaiserlike roll quickly fell apart. The same bun-collapse problem plagued the kielbasa sandwich ($10), although the house-made sausage is good on its own dipped in creamy grain mustard, which is also made in the kitchen. Pierogis stuffed with farmer's cheese ($16) were more flaccid than crisp and were drenched in a heavy sauce that tasted strongly of sour cream, not the purported Riesling. A coffee mug of adobo chili ($9) was heavy on hunks of braised beef but bland—most of its flavor came from the salt on its accompanying pretzel. Salads have been generous but disappointing, too, from an overdressed mess of tiger shrimp and grapefruit ($15) to a wan Caesar ($8).
The best parts of the menu are the dishes you'd expect to find at any sports bar. A terrific house-ground burger ($11) comes with a bevy of toppings, including sautéed mushrooms in a brandy-accented cream sauce and lightly sweetened bread-and-butter pickles that Stachowski brines himself. On the side are double-fried Belgian-style frites (much better than the onion rings, which taste fresh out of the freezer). The deliciously irresponsible Southern-fried-chicken sandwich ($9) is piled high with a juicy breast hot from the fryer, bacon, and ranch dressing. Wings (six for $7) are big and meaty and best ordered grilled rather than fried, with a brushing of thick barbecue sauce. A big basket of fried calamari, rock shrimp, and oysters ($11)—called Fisherman's Net—makes a great share; ask for a double helping of the light, herby tartar sauce.
Then there's the bratwurst ($17). The massive veal sausage comes sizzling on a cast-iron skillet, sided with peppers, onions, and darkly golden potatoes rösti. The brat's grill-marked skin is so snappy that you need a serrated knife to cut it, and the spiced meat is equal parts silky and sturdy. It's a thing of beauty that shows Stachowski the meat lover in all his glory. And it's something you can't find in just any bar. Well, outside of Sheboygan, anyway.
This review appeared in the August, 2008 issue of The Washingtonian.