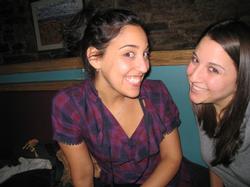 This week's post is going to be a random assortment of wedding planning. I've been doing some things here and there, so let's get right to it!
First, Ron and I finished our registry at Crate & Barrel. I have to say that we actually found the whole experience to be much more user-friendly than Bloomingdale's. Adding and subtracting items from our registry list is incredibly easy on the Crate & Barrel Web site, and after we were done in the store, they gave us a cute heart-shaped glass bowl!
Second, I've been shopping around for a veil. I'd tried one on in August when I actually bought my dress, but I wasn't really focused on it and figured I'd just look later because I have plenty of time. I'm pretty anal-retentive (no surprise there), so I wanted to be able to try on my dress while choosing a veil versus just buying one on its own.
About a month ago, I went to Hannelore's with my mom, put Bianca (the dress) on, and looked at several veils. Any excuse to have the dress on again, right? They have a ton of veils at the store, and they're all beautiful. I knew I wanted a long veil, so that narrowed it down a little bit. We spent about an hour at the store and took a ton of pictures, but we didn't really find anything that worked. There was one lace veil that my mom and I both loved, but it was way overpriced, so we decided to just shop around. We did, however, get the measurements for the bridesmaid dresses, and the girls are going to be ordering them this month!
I'd made plans to go to Manhattan to visit Deborah, the maid of honor, at the beginning of October, so I thought, 'Why not go to Kleinfeld's to try on some veils?' It looks like bridal heaven on TLC's Say Yes to the Dress. So I called them and asked to set up an appointment. I told the moderately friendly customer-service representative that I wanted to try on veils and asked if I could put Bianca on while I did it. She said that was absolutely not allowed because I'd already bought the dress elsewhere. I thought that was lame, and they were all booked anyway, so I moved on.
We ended up going to the Amsale flagship salon, which worked out perfectly because they were very nice and let me put Bianca on. It was quite a pleasant experience, and I ended up getting a simple, chapel-length veil that will be ready in five weeks. Done and done.
Also, Ron and I are trying to gather all of our guests' addresses because the save-the-dates are almost ready to go out! They should be finished by the end of the month. We've also been working on our wedding Web site, adding pictures and hotel information.
The last thing I've been thinking about recently is shoes. I know I want heels, but definitely not too high, because Greek wedding ceremonies are 45 minutes long and I'll have to be standing the whole time. I'm thinking about not wearing white shoes—maybe silver? That way I can wear them again after the wedding. Thoughts?
Eleni, a local bride-to-be, writes every Wednesday about planning her wedding, which will be in Washington in the spring. To follow her adventures from the beginning, click here.
To read the latest Bridal Party blog posts, click here.