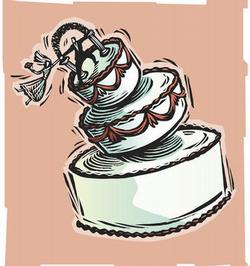 Thursday, November 6: Bridal Tasting
So you've finalized the guest list, but what are you going to feed them? Head to RSVP Catering (2930 Prosperity Ave., Fairfax; 877-798-6133) tonight between 5:30 and 7:30 for its fall wedding-food tasting event and get some ideas. The catering staff will create a fun, festive evening with hors d'oeuvres and specialty cocktails. The full dinner-and-dessert buffet will feature RSVP's fall offerings, such as butternut-squash bisque. Registration required; free.
Thursday, November 6, through Saturday, November 8: Junko Yoshioka Trunk Show
There are plenty of incentives to visit this show at Carine's Bridal Atelier (1726 Wisconsin Ave., NW; 202-965-4696): Brides who purchase a gown during the weekend get not only a 10-percent discount but also a bonus 2 percent off in honor of its two-year anniversary. This contemporary-meets-classic bridalwear designer offers freebees such as custom fitting. The trunk show will include Junko Yoshioka's entire spring and fall 2009 collections. By appointment only; appointments last one hour.
Friday, November 7, though Saturday, November 8: Judd Waddell Trunk Show
Conveniently located just down the street from Carine's, a second trunk show begins today at Hitched (1523 Wisconsin Ave., NW; 202-333-6162). Featuring bridal gowns from American designer Judd Waddell, this show will include an array of dresses from all of his lines as well as 10 percent off for brides who purchase during the weekend. By appointment only; appointments last one hour.
Saturday, November 8: Bridal Cake Tasting
Meet the bridal consultants of Carey's Cuisine (4311 St. Barnabas Rd., Temple Hills; 301-899-3885) this Saturday to design your perfect wedding cake. If you book the cake company at the tasting, you'll get $50 off your cake for orders of more than $300. You must RSVP, and there is a limit of two guests. Free; 6 to 8 PM.
To submit a bridal event, email lshallcross@washingtonian.com.
More>> Bridal Party Blog | Wedding Guide | Wedding Vendor Search