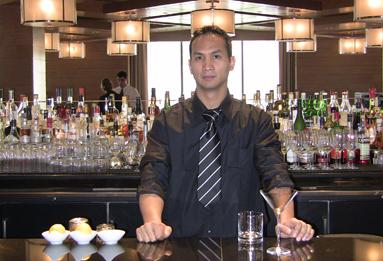 "I was looking to pick up some night shifts to make some extra money and found an ad online for a bar—it didn't even mention the name," says Kevin Diedrich, recounting how he landed a job as bartender at San Francisco's Bourbon & Branch, one of the country's most famous cocktail bars.
There were about 350 other people in the applicant pool, but Diedrich—a DC native who'd ventured out west, lured by San Francisco's thriving cocktail scene—interviewed and got the job. At the time, he was working on redesigning the drink menu for the city's Ritz-Carlton hotel and working day shifts at the bar.
"I learned about balance in cocktails, the advantages of using fresh ingredients, acidity, and sweetness—it really blew my mind," Diedrich says of his experience working at the speakeasy-style bar, known for its exclusivity (reservations and a password are required for entry) and extensive menu. "I was lucky to work with and be trained by some of the city's, if not the country's, finest bartenders."
Diedrich brought this knowledge with him to his day job, pushing for more interesting products and cocktails on the Ritz-Carlton's menu. He also began winning cocktail contests.
"Picking up as much as I could about spirits became like an addiction," he says, laughing. "I'm always eager to learn, and San Francisco is just so robust in terms of spirits."
Diedrich followed his time at Bourbon & Branch with a gig at Clock Bar before moving back to DC earlier this year to become lead bartender at the Georgetown Four Season's Bourbon Steak.
"I love DC—it's my home," he says. "And I'm excited to introduce people to cocktails and share what I was so lucky to learn with other bartenders."
You can find Diedrich jiggering cocktails ("I jigger absolutely everything," he says. "Even if I have drink tickets waiting. I jigger to make sure the cocktail is precise and consistent.") behind the bar Wednesday through Saturday, though you may want to head there early—the 11-seat bar fills quickly after 4. In the meantime, check out a video of Diedrich making one of his signature cocktails, the Spiced Marmalade, and get the recipe.
Spiced Marmalade
Kevin Diedrich, Bourbon Steak
2 ounces Plymouth gin
4 toasted cloves
1 bar spoon orange marmalade
1 ounce fresh orange juice
½ ounce fresh lemon juice
2 dashes Fee Brothers orange bitters
Combine ingredients in a cocktail shaker with ice. Shake and serve with a lemon peel.
More>> After Hours Blog | Arts & Events | Happy Hour Finder | Calendar of Events