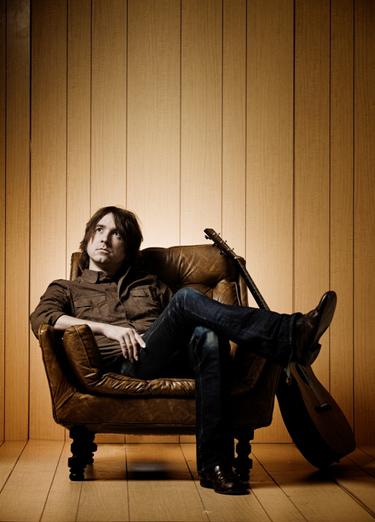 Luke Brindley thinks a lot about love. His songs, influenced by the likes of Bob Dylan and Bruce Springsteen, talk about "looking for love, I don't wanna fight / take me in your loving arms tonight" ("Loving Arms"), or how "only love's gonna tear down these walls" ("Wrecking Ball"). It's something he knows about firsthand, Brindley says. He and his wife adopted a drug-exposed baby from New Jersey—where he grew up—and according to his personal bio, they did it to "redeem a tragic situation through real love and hard work." Brindley now seeks inspiration from his daughter and says he finds himself writing about her in his songs.
Brindley has received acclaim from the likes of the Washington Post, Paste, and Rolling Stone and has been graced with awards including Best Contemporary Folk Album of the Year in 2008 from the Washington Area Music Association. When he's not recording, writing, or playing, he's running Jammin' Java, a venue which he owns with his brothers. Brindley is currently recording new music and hopes to release an album this fall.
Brindley has back-to-back shows at Jammin' Java on July 17 and 18, where he'll share the stage with Parliament Hill and Seth Glier. To sample some of Brindley's tunes before heading to the show, check out his MySpace or follow him on Twitter (@lukebrindley) to see what he's been up to.
Name: Luke Brindley
Age: " 'Too old to be a child star, too young to take leads,' a quote by Morrissey."
Hometown: "Millburn, New Jersey will always be home, but Reston is my current address."
First song that made you want to play music: "I grew up with music in church and in my family, but '80s pop or early MTV stuff hooked me on pop music. Maybe that's why I'm drawn to songs that have some depth, meaning, and soul but have an upbeat element to them."
First instrument: "Piano."
Local spot to seek inspiration or write music: "My desk."
Best local venue: "Jammin' Java."
Best bar to hear music: "9:30 Club."
Favorite local band:
"I'm a fan and a friend of Todd Wright. He's an amazing producer, musician, and comedian. You can catch him around town or on stage with me at Jammin' Java. Singer Jess Bennett fronts a brand-new, Washington-based band, Parliament Hill, when she's not playing with me."
Best thing about Washington's music scene: "The fans."
Worst thing about Washington's music scene: "No good radio support."
Craziest tour memory: "I try and keep it all about the music when I'm on the road."
Finish this sentence: When not making music, you can find me . . .
". . . trying to be a great dad, or researching, learning about, and cooking various ethnic and regional foods. Or working hard on all the other stuff I have to do to make a living in music these days."
Rolling Stones or the Beatles: "Beatles."

Digital download or hard copy: "Digital mostly, but hard copies are a rare treat I enjoy these days."
Rolling Stone or Spin: "I haven't read either in forever. Paste and American Songwriter seem to be the last great surviving music mags."
Club show or festival: "Club show. It's hard to get a vibe and intimacy going at a big outdoor show."
What musicians, bands, and performers influence your music? "So many. Bob Dylan, Nick Drake, Bruce Cockburn, Bruce Springsteen, Patty Griffin, and my musical friends."
If you could listen to only one album for the rest of your life, which would it be and why? "Right now I'd say Bruce Cockburn's In the Falling Dark. It's a hopeful, spiritual, big-picture album without ignoring the mundane, day-to-day challenges we face. It's poetic and written with incredible insight."
What's the best thing about being in a band? "Writing, performing, and recording is always new, creative, and exciting."
Where do you see yourself and your music in five years? "The possibilities are endless. I'm looking forward to finding out."
More>> After Hours Blog | Arts & Events | Happy Hour Finder | Calendar of Events