This page describes the contents of an issue of Washingtonian magazine. Subscribers get exclusive early access through our print and digital editions. Most of our feature stories are later published online and linked below.
Buy a Single Issue
Subscribe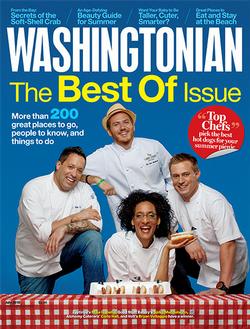 Volume 45, Number 10
Cover Story
best of washington

More than 200 of the best people, places, and things to do. Plus—readers pick their favorites.
Photograph by Vincent Ricardel

Features
Secrets of the Soft-Shell Crab
Of all the ways we savor the blue crab, soft-shells require the most expertise to bring to the dinner table. It all begins with a waterman like David Laird. By Tom Horton
"Allah Sent Me an Angel"

Todd Shea is an unlikely savior. But the people he helps don't care that he was once a crack addict—or know that they've also been saviors to him. By Salma Hasan Ali
Want Your Baby to Be Taller, Cuter, Smarter?

We're approaching a biotechnological era in which parents select combinations of genes not only to avoid genetically linked disorders but also to choose intelligence, height, looks, and athletic ability. Are we ready for this brave new world? By John Pekkanen
"I'm Turning My Body Over to You"

She had three months to transform her body before a high-school reunion. Were the trainers at an elite gym up to it? Was she? By Cathy Alter
Capital Comment
Peggy Cooper Cafritz's new abode . . . Elena Kagan's $5-million sacrifice . . . The GOP's athletic hopes . . . Authors' favorite beach reads . . . Legal players in the high-stakes Wizards deal.
Profile In the male-dominated sport of polo, Isabella Wolf plays like one of the boys—rough.
Real Life Filled with doubts.books Ghosts of the past.
Where & When
Norman Rockwell at American Art . . . Mary Poppins at the KenCen . . . Joan Armatrading at the Birchmere . . . Tim McGraw at Jiffy Lube Live . . . Natalie Merchant at Strathmore . . . Paul Taylor Dance at Wolf Trap . . . Fringe Festival returns.
FOOD
dining out Kushi, a pulsing izakaya and sushi spot, brings fish from Tokyo's Tsukiji market to downtown DC. Plus—two restaurants at National Harbor get a lift from a new chef. best bites A gem of a grocery in DC's Adams Morgan . . . Evo Bistro's lobster ravioli . . . Where to get dry ribs . . . Classing up a McLean burger joint
Life
travel Two good nonstop-flight destinations for summer—Quebec and Minneapolis. beach bargains Prices along the shore are still falling—and the vacation home you liked may be a lot more affordable. beach favorites Whether you're heading to Rehoboth, Ocean City, or one of the region's other resort towns, here are great places to stay, play, and dine at the shore.Reader deals Wishing you were here.
Home
money Shares of these local companies have taken a big hit, but they've rebounded. Now will they go a lot higher?Luxury Homes A Kalorama home sells in foreclosure for $3.8 million, a short sale in Great Falls for $2.6 million.
Pets From sunburn to heat stroke, pets also struggle with our summer weather.
First Person When I was young, I knew what I'd be. How could not getting that be good?