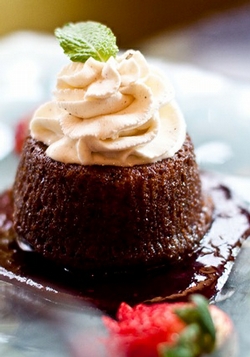 At Rasika, a trendy, colorful dining room in DC's Penn Quarter, chef Vikram Sunderam redefines traditional Indian dishes with a slightly Western touch. The result is a roster of fabulous dishes that pay tribute to what you'll find in traditional curry houses but with new twists. On his dessert menu is a petite date-and-toffee pudding that's a play on the traditional British sticky-toffee pudding. Sunderam says he wanted to create something that acknowledged the English influence on Indian cuisine. The pudding has been on the menu since the restaurant opened and is one of the most popular sweets.
Be sure to use warm water when blending the dates and mixing in the baking soda, says Sunderam. It will ensure that the dessert comes out moist and light.Recipe Sleuth: Rasika's Date-and-Toffee Pudding
Serves 6
Make the date pudding:
½ pound dried, seedless dates
1 cup warm water
2 tablespoons baking soda
8 tablespoons (1 stick) unsalted butter, plus more for greasing serving cups
9 ounces (about 1 cup) sugar
9 eggs
1 teaspoon vanilla extract
3¾ cups (1 pound) refined flour, plus more for dusting serving cups
2 tablespoons baking powder
Creme fraîche as needed
Preheat the oven to 350 degrees.
Place the dates and hot water in a blender and blend until it creates a smooth paste. Stir in the baking soda and set aside.
Brush 6 4-ounce foil cups with butter and lightly dust with flour. Store in the refrigerator.
In a stand mixer fitted with the whisk attachment, mix the sugar and the stick of butter until light and fluffy. Add the eggs and vanilla extract and blend well. Reduce the speed of the mixer and fold in the flour, baking powder, and the blended dates. Pour the mixture into the foil cups, filling about ¾ of the way.
Bake for 45 minutes or until the puddings are a light-brown color. Stick a toothpick in the center; it shouldn't be moist or sticky when you pull it out. When done, remove the puddings from the cups and let them cool on a cooling rack.
Pour the toffee sauce (recipe below) over the top and serve with mixed-berry coulis (recipe below) and crème fraîche.

For the toffee sauce:
¼ cup unsalted butter
1 cup brown sugar
1 cup heavy cream
Heat the butter in a heavy bottom pan over medium heat. Add the brown sugar and stir until it melts. Add the cream, mix well, and cook on a low flame until it thickens to coat the back of a wooden spoon.
For the coulis:
2 pints fresh fruit (Sunderam likes strawberries and raspberries)
½ cup sugar
In a heavy bottom pan set over medium heat, cook the berries with the sugar until they soften. Blend to a fine purée and pass through a fine-mesh sieve. Refrigerate until ready to serve.
Subscribe to Washingtonian
Follow Washingtonian on Twitter
Follow the Best Bites Bloggers on Twitter at twitter.com/bestbitesblog
More>> Best Bites Blog | Food & Dining | Restaurant Finder