Absolute Kitchens
8230 Boone Blvd., Suite 170, Vienna; 703-917-0744.
Owner and designer Richard Forbes draws on his architectural training to improve kitchens' light and circulation.
Aidan Design
4701 Sangamore Rd., Suite L3, Bethesda; 301-320-8735.
This firm, which has one architect on staff, does a lot of transitional designs in older homes—not too modern, not too contemporary.
Boffi
3320 M St., NW; 202-337-7700.
Based in Milan, this company offers very high-end modern cabinets that blend into the wall or look more like a piece of furniture. The Georgetown location has one architect and one designer on staff.
Bulthaup
3324 Cady's Alley, NW; 202-338-2220.
This German firm makes high-end minimalist cabinets and has two designers on staff in the Georgetown showroom.
Cameo Kitchens
7297-M Lee Hwy., Falls Church; 703-532-4545.
Cameo specializes in traditional styles and carries only Honey Brook Custom Cabinets, a line made by Amish and Mennonite craftsmen. It does projects only in Northern Virginia.
Coyle & Associates
7420 Fullerton Rd., Suite 102, Springfield; 703-644-9677.
Richard Coyle's firm works often with custom homebuilders and remodelers—you can use your contractor or Coyle's—and does mostly traditional kitchens.
Dee David & Co
By appointment, Falls Church; 703-560-6601.
David carries four cabinet lines and designs all styles of kitchens in Northern Virginia.
Design House Kitchens
8220 Wellmoor Ct., Savage, 301-498-0001; 14101-H Parke Long Ct., Chantilly, 703-263-2700.
This family-owned company has been around more than 90 years and offers 11 lines of cabinets. Designer and Chantilly showroom manager Gil Krawitz is highly recommended.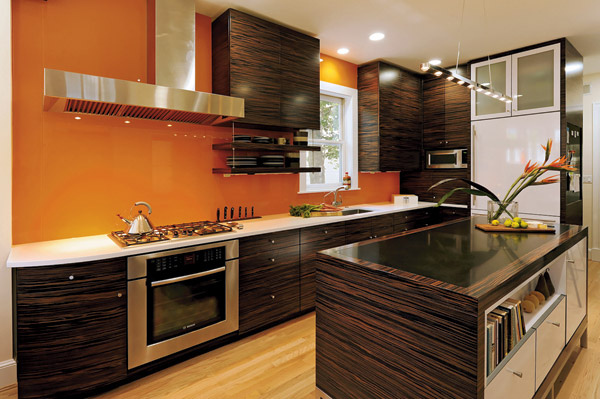 Jennifer Gilmer Kitchen & Bath designed this contemporary kitchen. Design Solutions
1598-D Whitehall Rd., Annapolis; 410-757-6100.
Owner Joni Zimmerman does large and small kitchens and prides herself on working with clients' individual tastes.
Ikea
10100 Baltimore Ave., College Park, 301-345-6552; 2901 Potomac Mills Cir., Woodbridge, 703-494-4532.
Known for reasonable prices, this Swedish chain is an especially good choice for small kitchens and younger homeowners. Ikea can put you in contact with a professional or provide resources for do-it-yourselfers.
Jack Rosen Custom Kitchens
12223 Nebel St., Rockville; 301-363-4064.
This family-owned company has designed kitchens since 1982. It carries three cabinet lines and does high-end kitchens in a variety of styles.
Jennifer Gilmer Kitchen & Bath
6935 Wisconsin Ave., Chevy Chase; 301-657-2500.
The top vote-getter, Gilmer's award-winning firm designs some of the area's most creative kitchens.
Kitchen & Bath Factory
4624 Lee Hwy., Arlington; 703-522-7337.
Owner/designer Bob Kay, in business 30 years, specializes in smaller kitchens and offers reasonable prices.
Kitchen and Bath Studios
7001 Wisconsin Ave., Chevy Chase; 301-657-1636.
Five designers on staff offer custom cabinets in a variety of styles. Karen Hourigan gets good reviews.
Konst-Kitchen Interior Design
7500 Old Georgetown Rd., Bethesda; 301-657-3800.
Owned by remoldeler Jonas Carnemark, this kitchen-design company is the exclusive dealer of ultramodern Siematic cabinets.
Lobkovich Kitchen Designs
By appointment, 8000 Towers Crescent Dr., Suite 150, Vienna; 703-847-0601.
An architect-owned firm specializing in custom cabinetry, Lobkovich gets high marks for service.
Montgomery Kitchen & Bath
15906 Luanne Dr., Gaithersburg, 301-417-6661; 6194 Old Franconia Rd., Alexandria, 703-971-0322.
This wholesaler has good prices on cabinets and countertops; the company offers design services and can refer you to contractors for installation.
Nancy Thornett Associates
4833 Bethesda Ave., Bethesda; 301-718-0155.
In business 27 years, this family-owned firm offers custom and semicustom cabinets and can do "green" kitchens.
Pedini
3340 Cady's Alley, NW; 202-640-1976.
Offers sleek modern Italian cabinetry, design, and installation. Often uses environmentally friendly materials.
Portfolio Kitchens
By appointment, Vienna; 703-242-0330.
Owner Lois Kennedy designs kitchens in traditional and contemporary styles.
Reico Kitchen & Bath
Bethesda, 301-654-6000; Falls Church, 703-748-0700; Springfield, 703-914-4900; Annapolis, 410-571-8400.
If you're an experienced do-it-yourselfer or working with a contractor, you can save money by using Reico's stock cabinetry. The large appliance selection includes Miele and Dacor lines.
Robin Lynch Designs
118 Midtown Rd., Gaithersburg; 301-721-1444.
Lynch, a certified kitchen designer, specializes in traditional kitchens.
Stuart Kitchens
1359 Beverly Rd., McLean, 703-734-6102; 8203 Wisconsin Ave., Bethesda, 240-223-0875; 10440 Furnace Rd., Lorton, 703-690-4045; also in Culpeper, Waldorf, Baltimore, and Pasadena.
This company, which has been in business more than 50 years, designs and installs kitchens throughout the area.
This list first appeared in the October 2010 issue of The Washingtonian.
Questions or comments? You can reach us
on Twitter
,
via e-mail
, or by contacting the author directly: