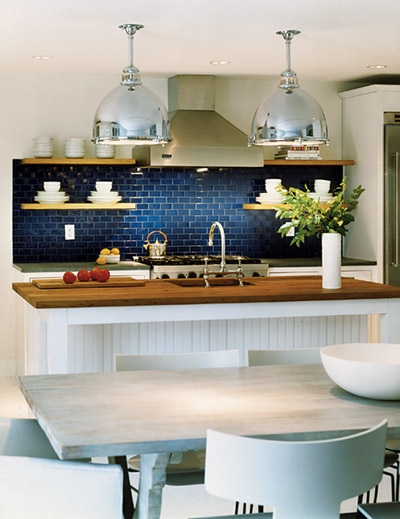 Ann Sacks
3328 M St., NW; 202-339-0840.
This national chain manufactures its own line of unusual tile. It also carries stone, glass, and mosaic tile as well as lighting and plumbing accessories.
Architectural Ceramics
Bethesda, 301-718-8343; Rockville, 301-762-4140; Alexandria, 703-299-6200; Falls Church, 703-714-0161.
The top vote-getter for tile, this company has a large selection including stone, ceramic, porcelain, glass, and metal; custom and hand-painted options available.
Best Tile
11601 Boiling Brook Pkwy., Rockville, 301-984-3399; 8196 Terminal Rd., Lorton, 703-550-2352.
This national chain carries ceramic, glass, metal, mosaic, porcelain, and stone tile. Also offers tumbled and antique stone.
Carlisle Wide Plank Floors
By appointment, 1666 33rd St., NW; 800-595-9663.
Architects and designers like this source for hardwood floors, including some antique flooring with worm holes, knots, and other markings.
Charles Luck Stone Center
By appointment, 12202 Clarksville Pike, Clarksville, 443-535-0543; 1700 S. Sterling Blvd., Sterling, 703-674-2240; 43060 Jackpit La., Ashburn, 703-723-1050.
Designers recommend this source for natural and manufactured stone countertops, backsplashes, and flooring.
Classic Floor Designs
2120 L St., NW; 202-872-9860.
Highly recommended for hardwood, vinyl, stone, rubber, and leather flooring.
Concrete Jungle
By appointment, 4510-J Metropolitan Ct., Frederick; 301-874-1001.
Fabrication and installation of custom concrete countertops, sinks, benches, and wall and floor tiles.
Design Tile
8455-B Tyco Rd., Vienna; 703-734-8211.
This showroom's wide selection of ceramic, porcelain, stone, shell, glass, and mosaic tile is arranged by color and composition.
Design Within Reach
4828 St. Elmo Ave., Bethesda, 301-215-7200; 3306 Cady's Alley, NW, 202-339-9480.
This showroom has creative, modern furnishings for the entire house. For the kitchen, you'll find contemporary counter and barstools as well as stainless-steel tables and work tops.
Fernando's Marble Shop
15910 Indianola Dr., Rockville; 301-670-2794.
This family-owned company fabricates and installs granite, marble, limestone, slate, soapstone, and quartz.
Floor Gallery
12108 Wilkins Ave., Rockville; 301-468-1550.
In business since 1919 and in Washington since 1969, this company specializes in custom vinyl tile; you'll also find linoleum, cork, and hardwood.
Marblex Design International
2926 Prosperity Ave., Fairfax; 703-698-5595.
A fabricator specializing in custom stonework for countertops, floors, island tops, and backsplashes. Showroom features marble, granite, limestone, and quartz surfaces.
Marva Marble and Granite
12225 Distribution Way, Beltsville; 301-595-1882.
Wide selection of marble, granite, slate, limestone, and other natural stones in tiles or slabs. Specializes in exotic stone.
Mosaic Tile Company
Rockville, 301-881-2520; Chantilly, 703-631-4848; Fairfax, 703-280-4300; Lorton, 703-495-8453.
Specializes in eco-friendly tiles, grout, and other materials. Offers a variety of tiles from Europe and Central and South America, including porcelain that looks like hardwood.
R. Bratti Associates
401 E. Glebe Rd., Alexandria; 703-549-1135.
A top vote-getter, this stone contractor offers granite, marble, limestone, and other materials for countertops, floors, and more.
Renaissance Tile & Bath
816 N. Fairfax St., Alexandria; 703-549-7806.
Based in Atlanta, this high-end chain has design consultants on staff to help consumers with the large selection of tile and stone.
Stone Source
1400 16th St., NW; 202-265-5900.
Natural stone, ceramic, glass, and porcelain tile as well as recycled and engineered materials and reclaimed wood for floors and walls.
Thos. Somerville Co.
Multiple area locations.
This local plumbing and HVAC supplier is a good source for faucets and sinks from brands such as Kohler and Moen.
Tile Shop
15142 Frederick Rd., Rockville, 301-610-5070; 6715 Spring Mall Rd., Springfield, 703-971-0169; 46301 Potomac Run Plaza, Suite 130, Sterling, 703-444-3902.
A national chain whose three local showrooms have a sizeable selection of affordable tile and stone as well as helpful room vignettes.
Union Hardware
7800 Wisconsin Ave., Bethesda, 301-654-7810; 7505-M Leesburg Pike, Falls Church, 703-893-4444.
In business since 1914, this favorite of local architects and designers carries sinks, faucets, decorative hardware, and lighting.
Universal Floors
4625 41st St., NW; 202-537-8900.
Local architects like this firm for installing, restoring, hand-scraping, and refinishing hardwood flooring. Specializes in deep, rich stains.
Waterworks
3314 M St., NW; 202-333-7180.
Known for luxury bathrooms, this shop also carries fixtures, sinks, stone, and tile that would work well in a traditional kitchen.
W.T. Weaver & Sons
1208 Wisconsin Ave., NW; 202-333-4200.
This family-owned Georgetown institution, in business more than 120 years, carries decorative hardware, tubs, high-end fixtures, and accessories.
This list first appeared in the October 2010 issue of The Washingtonian.