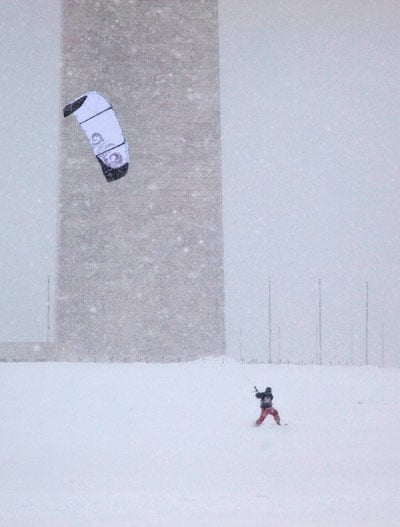 Last February's Snowmageddon will go down in Washington history. As with the legendary blizzard of 1996, people were trapped in neighborhoods and homes for days on end—sometimes without power, almost always without modern modes of entertainment. Those who braved the storms—and brought cameras along—ended up with some epic pictures. With the probable onslaught of winter (who can tell with global warming anymore?), we've dubbed December's photo contest "Snowmageddon" in hopes of collecting your best shots of wintry white. No, the photo doesn't have to be from last winter's Snowpocalypose, but that certainly won't hurt.
Here's how the contest works: Submissions will be accepted until noon on Monday, December 20. Our judges will sift through the entries to find the five best, but it's up to you, dear readers, to vote for your favorite. The winner will be published in the February issue of The Washingtonian, just in time to commemorate the first anniversary of our snowstorm double whammy.
Photos—one per e-mail, please—should be sent to photocontest@washingtonian.com. Be sure to include the photographer's name, phone number, e-mail address, and place of residence along with a sentence or two about the photo, where it was taken, and an explanation of why it fits the theme. You can submit as many photos as you'd like, but just make sure each is 300 dpi and at least four by six inches. And remember, the photographer and the subject must be from the Washington area, which includes the Maryland and Virginia suburbs.
>> See a slide show of past winners
Our policy on photo rights: The photographer retains the copyright. However, because the photographer has submitted his or her photo to the contest, the magazine has the right to print the winning photograph in the current issue of the magazine and online as well as in any future issues as long as usage is related to the photo contest. The magazine also has the right to use the finalists online in relation to the photo contest.
To see more of Charlie's work, go to charlienutting.com.
Subscribe to Washingtonian
Follow Washingtonian on Twitter
More>> Capital Comment Blog | News & Politics | Party Photos