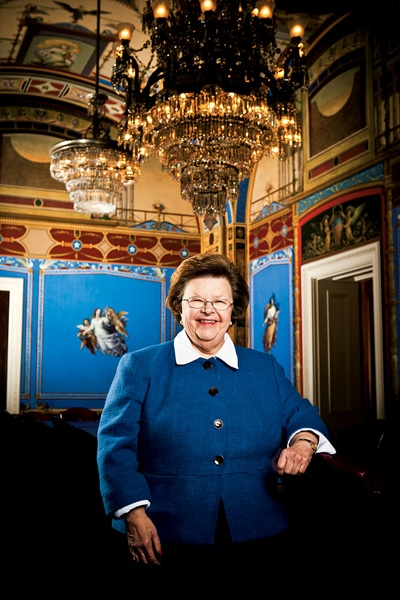 >> See All Washingtonians of the Year
Thanks to Barbara Mikulski—the senior US senator from Maryland and the longest-serving woman in Senate history—being a woman can no longer be treated as a preexisting condition when it comes to health care.
Before the legislative changes Mikulski pushed to enactment, eight states and the District of Columbia denied women insurance coverage for medical care when they were victims of domestic violence. And women often were charged more for medical care than men of the same age and health status.
A member of the Senate's Select Committee on Intelligence, Mikulski also is focused on national security. With her support, Fort Meade has become home to the US Cyber Command—which was created to protect the country, she says, in the cyberwar we're fighting.
"We're being hacked by Russia, China, and organized crime," she says. "The new command is charged with protecting the military, companies, and individual assets."
Maryland has a large federal presence, and Mikulski, a Baltimore native, is fiercely protective of it.
"I'm so proud that three Nobel Prize winners at NASA/Goddard, the National Institutes of Health, and the National Institute of Standards and Technology are civil servants," Mikulski says. "The Food and Drug Administration is the cop on the beat making sure food and drugs are safe. Everywhere I go, I see a federal employee who's making a difference in someone's life."
Mikulski is known for her down-to-earth, eyes-on-the-prize approach to her job. But nothing fires her imagination like the Hubble Space Telescope and the work of NASA's Goddard Space Flight Center in Greenbelt.
She sees the center as key in the "innovation economy," leading the United States in the use of digital technology and research in "green" science. Goddard is constantly studying the planet that we call home, Mikulski says.
"There may be intelligent life on this planet," she adds. "It will take a little more research."
This feature first appeared in the January 2011 issue of the Washingtonian.

Subscribe to Washingtonian
Follow Washingtonian on Twitter
More>> Capital Comment Blog | News & Politics | Party Photos