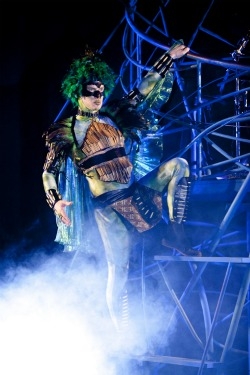 *** stars out of four
The last time Carlo Gozzi's commedia dell'arte fantasy The Green Bird had a significant run in the United States, it was directed off-Broadway in 1996 by none other than Julie Taymor (of Spider-Man: Turn Off the Dark notoriety). Taymor had more luck with The Green Bird, which was described as "visionary theater" by the New York Times, than she's had with her latest endeavor. Gozzi's elaborate script calls for ingenious directing—dancing waters, singing apples, magical statues—and Allison Arkell Stockman's Constellation Theatre Company production, currently at the Source, is no disappointment. The psychedelic, bold show has the weird and the wonderful in spades, as well as a gifted, enthusiastic cast making the most of the play's potential for physical comedy.
Tom Teasley, who recently won a Helen Hayes Award for his sound design on Constellation's 2010 production of The Ramayana, composed the music for The Green Bird, which he also performs sitting atop a sculptural tangle of metal. The rest of the set, in keeping with the giant doodle theme, is empty save for colorful painted scribbles on the floor. Teasley is a one-man Kraftwerk without the formalwear: He plays drums, a synthesizer, and what looks like an accordion with a mouth tube, while also beatboxing and creating his own special effects. Before the show starts, the effect is disconcerting, but together with the action on stage, it's seamless.
Gozzi's 18th-century play, much like Shakespeare Theatre Company's recent Candide, is a philosophical treatise wrapped up in a fairy tale. A king, Tartaglia (John-Michael McDonald), and his wife, Ninetta (Katy Carkuff), are expecting twins, but the king's malicious mother, Tartagliona (Nanna Ingvarsson), steals the babies, orders them killed, and buries Ninettta underground. Tartagliona's pompous prime minister, Pantalone, is unwilling to execute the children and instead wraps them in oilskin and puts them in a river, where they're found by a kindly woman, Smeraldina (Katie Atkinson), and her buffoonish husband, Truffaldino (Matthew Wilson). The couple adopt the children, Renzo (Ashley Ivey) and Barbarina (Emma Crane Jaster), who grow up to be dedicated thinkers and philosophers, but dogma leads them to dismiss their mother as acting out of "self-love," so when their brute of a father orders them gone, they pack up and pledge to search for their real parents.
The Green Bird's supporting elements are so strong that they almost distract from the excellent performances Stockman draws out of her cast, all of whom are apparently gifted clowns (Jaster and McDonald actually trained at the same physical theater school in Paris as Julie Taymor). Considering Constellation's limited resources, Kendra Rai's costumes are extravagant, whimsical creations drawing on childlike absurdity and a vivid palette. McDonald's king wears an outrageously large crown. Ingvarsson's Tartagliona has large, pendulous teats hanging from her costume, and a singing apple tree is a vision in camouflage with Jim Henson-inspired apple puppets where her hands should be.
No commedia dell'arte show would be complete without masks, and designer Lauren Klamm has created grotesque protuberances for some cast members—Pantalone's is particularly elaborate. Visually, the show is a treat; as a whole, it's spoiled only slightly by its length (two hours and 40 minutes is a little excessive for such a layered production; after a while, sensory overload begins to kick in). But the young cast delivers energetic and committed performances, and it has plenty to work with. Rex Daugherty's green bird, the hero of the show, may not get as much stage time as the rest of the cast, but he's memorable nonetheless in his role as a preening, graceful presence, outlandishly attired character—much like the production itself.
"The Green Bird" is at Constellation Theatre Company at Source through June 4; tickets ($25 to $30) available at Constellation's Web site.
Subscribe to Washingtonian
Follow Washingtonian on Twitter
More>> After Hours Blog | Arts & Events | Happy Hour Finder | Calendar of Events