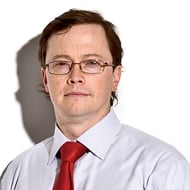 It's only logical that a geology PhD from Stanford would sign Tiffany & Co. as one of his first clients. He has handled mining and conservation issues for the jewelry giant since 2005.
Anderson, who worked on a host of land-use matters as deputy chief of staff for Nevada Democratic senator Harry Reid, is also a valuable resource for energy companies that need an advocate on the Hill and at the Interior Department to help them get power facilities built. Anderson's knowledge of the environmental-permitting process allows him to pinpoint ways for his clients to save money and time.

This article appears in the June 2011 issue of The Washingtonian.