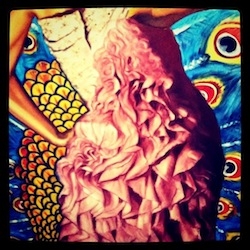 Wednesday, June 22
SAMBA: Bring your dancing shoes to tonight's Samba and Sangria party at Eden. Guests will enjoy complimentary sangria, Latin appetizers, and desserts from TamiCakes. Live music will be provided by the Brazilian jazz group Origem. All proceeds will benefit the Institute for Responsible Citizenship, a nonprofit leadership program for male African-American college students. Tickets ($15 for members, $25 non-members) can be purchased at the event Web site. 6:30 to 9:30 PM.
FASHION: Join Style Étoile for an evening of cocktails, fashion, and art at the L2 Lounge. The style Web site will be unveiling the exhibit "Fashion Fusion: When Fashion and Art Collide." They'll also be previewing their Spring/Summer collection, which includes Anna Sui, Sonia Rykiel, and Sachin + Babi. Attendees get 20 percent off on-site purchases, along with a chance to win a signed copy of Anna Sui's new book. Reservations can be made through the event Web Site. 6 PM.
MUSIC: Believe it or not, tickets are still available for tonight's U2 360° concert at the M&T Bank Stadium. Florence + the Machine will be opening at 7PM for the rock band, and, hey, maybe you'll catch the philanthropic bug from Bono. Tickets ($40 and up) can be purchased at ticketmaster.com.
FILM AND WINE TASTING: You've heard of wining and dining, but how about wining and screening? Sip on a selection of Virginia wines while watching Vintage: The Winemaker's Year at Arlington Cinema N' Drafthouse. The documentary explores the rapid growth of the wine industry in Virginia and its increasing impact on the state's cultural, social, and economic landscape. $8; wine tasting can be purchased separately. 6:15 to 7:30 PM.
Subscribe to Washingtonian
Follow Washingtonian on Twitter
More>> After Hours Blog | Arts & Events | Happy Hour Finder | Calendar of Events