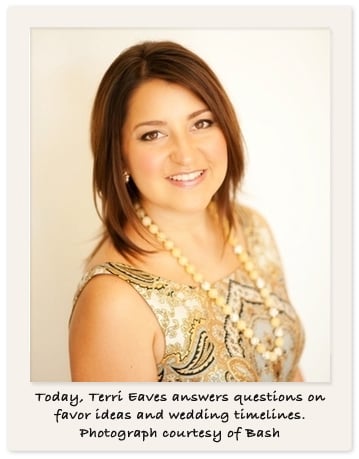 Yesterday, Terri Eaves of Bash answered your questions about color schemes, wedding venues, and "plus ones." Today, she'll solve your queries about everything from backyard weddings to welcome baskets.

HOW CAN A BALLROOM WEDDING BECOME RUSTIC?
Question: My fiancé and I really wanted a rustic outdoor wedding, but my parents (who are paying for the event) insisted on having it at their country club. Are there ways to incorporate rustic style elements into a traditional ballroom setting?
Eaves says: "Depending on the existing decor in the ballroom, you may have a number of options! First start with the linens and select a neutral color that will work well in the space and has a linen-like texture (this can be both formal or not). Your flowers can evoke that rustic feel, whether it's varied types of field flowers and herbs or selecting a vase to complement that tone. A wood chivari (natural, fruitwood or walnut) would work and bring down the formality."
"If the ballroom is just too hard to work with, think about bringing the rustic element to cocktail hour (perhaps it can be held outside)? Bars that are wooden farm tables, linens that are more natural (burlap) and Edison lights hanging between trees."
"If decor will not work with the venue (or your parents), think about those in the wedding. Maybe you wear your hair down or loosely pulled back. Maybe your makeup is natural and you carry a non-uniform bouquet. Maybe your bridesmaids don't wear floor-length gowns or coordinating dresses—and they choose a dress of their liking in shades of yellows and ivory. Maybe your groom and groomsman wear tan suits, brown wingtip oxfords, and they use the same field flowers used in the bouquets."
• • •
BACKYARD WEDDINGS

Question: We're thinking of getting married in my parents' backyard. I know that's not easy to do, and potentially expensive. What are some of the pros and cons of a backyard wedding?
Eaves says: "You are so lucky that you have that option! The pros to this option are that you are getting married in a location that is really special. You don't have to worry about (many) rules, regulations, time frames, or pay a rental fee. Also, you can be on site through the entire setup and get ready in your parents home."
"There are some cons though that makes this option not as easy and affordable as it may seem. All of the pros I listed above may be seen as cons! Perhaps your parents may have many rules that you need to follow (limited guest list, types of entertainment, tables on the lawn, etc.). You do have to worry about wear and tear on the lawn as well as the house. Vendors and guests will be in and out of the house and thru out the property. Think about mud, air conditioning, or heat and bugs coming in. You will need a solid rain plan which will most likely include a tent. There needs to be ample space (take note of low-hanging trees), and a floor for the tent in case rain was especially bad and makes the grass muddy. Restrooms may need to be rented if your house can not accommodate everyone. You will also need to check with your county and local police department about the guest size limit, parking, and noise ordinances. Make sure you have all the proper permits. I'd also recommend checking with neighbors that the noise and vehicles are OK with them!"
• • •
RECEPTION TIMELINES

Question: How long is a typical wedding reception? I'm getting different timings from different wedding venues.
Eaves says: "A typical wedding timeline looks something like this. Keep in mind that you want your guests to leave the reception feeling like they never want it to end. You don't want them to keep checking their watches or looking for a way to sneak out the door!"
"Plan 30 minutes to one hour for ceremony, one hour for cocktails, three-quarters to one-and-a-half hours for dinner (depending on number of courses and meal service), and two to three-and-a-half hours for dancing."
• • •
DC-THEMED WELCOME BASKETS

Question: I want to put together a DC-themed welcome basket for our out-of-town guests. What are (budget friendly) ideas for items I can include?
Eaves says: "DC-themed welcome bags or baskets are fun because we live in such a great area! To save money, first start with a paper gift bag rather than boxes or baskets. Fill these with bottled water and snacks (candy, granola bars, etc.) and purchase these items in bulk. Some fun DC things to add are Metro or city maps, postcards, tees (found inexpensively with street vendors), and buttons. I'd also suggest adding a welcome letter or pamphlet highlighting your favorite monuments, museums, bars, and restaurants."
• • •
FAVOR IDEAS

Question: I'm torn about favors. I hate the idea of giving away tchotchkes that guests are just going to throw away, but I'm not sure about edible favors, either. What are some of your favorite favor ideas?
Eaves says: I agree, tchotchkes are no good! If you are doing favors, I'd recommend something that is edible. While every guest may not love the chocolate caramels with rosemary sea salt on top, there is sure to be plenty of others that do! Guests usually open the favors prior to leaving the wedding, and if they don't like it, they will leave it behind. Food is always something someone will be willing to take."
"I like edible favors that are fun and something you may not see as a dessert course. Flavored popcorn, caramels, whoopie pies, and infused chocolates."
• • •
A THREE-HOUR BREAK

Question: We have a three-hour break in between our ceremony and reception—we're not thrilled about it, but due to various circumstances there's nothing we can do to change it. Is it a good idea to plan an activity for our guests during this break, or is it okay to leave them to their own devices? Thank you for your help!
Eaves says: "It is not necessary to plan activities for your guests, but it is such a nice gesture and will be greatly appreciated! I recently had a client in a similar situation. We had three motor coaches do a tour of the city between the ceremony and reception. On board the buses were water bottles, snack bags as well as info about the tour. It was a great way to fill that time. The client did make sure that guests knew that there would be no stops or returns between the ceremony and reception (a note was put in their welcome bag and in the back of the program). That way, those who did not want to do the tour, were not stuck on a bus."
"If that is too much of an organized event, I'd welcome all guests to join each other at a bar close to the reception for drinks and to get to know each other a bit more."
"In both instances, let guests know that it's something you wanted to do for them to fill that time, but they can certainly go back to their hotel!"
If you have planning needs and are interested in Bash, please contact Terri at info@bashdc.com.
Don't forget to check out the rest of our Vendor Q&As for the month of September here. E-mail your questions to vendorchats@washingtonian.com!
Subscribe to Washingtonian
Follow Washingtonian Bride & Groom on Twitter
More>> Bridal Party Blog | Wedding Guide | Wedding Vendor Search