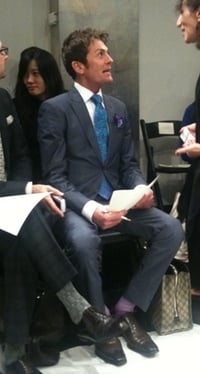 In case you haven't heard, there's a new drug in town. It's called Say Yes to the Dress. I have a serious addiction, and I'm sure many of you do, too, right? At least that's what I'm telling myself. I love watching those brides try on one gown after another, desperate to find "the one," and to feel the thrill of the moment when "you just know." But, to be honest, I've never really wanted to be one of those brides. (I would like to hang out with Randy, though.)
It's not that I don't love fashion, or shopping. I really, really love both of those things. Bridal salons are just a little overwhelming for me, and a little too . . . bridal. I associate them with gowns that are shiny, sparkly, and cumbersome—i.e. dresses that are beautiful to look at, but that I wouldn't actually want to wear. Come to think of it, that's probably part of the reason I wanted a beach wedding, since something simple and light is much more appropriate for the setting—and my style.
After I got engaged, I made appointments to try on dresses at J. Crew—the Georgetown location carries the bridal line—and Nicole Miller in Tysons Corner. The wedding dresses at both places are chic and no-fuss, and many of them don't necessarily look bridal. But I never made it to either store.
PreownedWeddingDresses.com is like a Craigslist for wedding gowns. Women all over the country, even all over the world, post ads for dresses they're trying to resell. I never intended to buy a dress through the site; I just liked to look at it for ideas. But while perusing the site's selection one afternoon, I found it: a silk ivory sheath by Notte by Marchesa, a designer I have long admired. I clicked on the ad, and could barely believe what I read. The dress had never been worn and still had the tags on it. It was in my size, and, best of all, it was right here in DC. The woman selling it worked in Georgetown, ironically, as a wedding planner. She had purchased it to wear as a second dress, but then decided to stick with just one gown. I dragged a good girlfriend with me during lunchtime the next day to take a look in person.
It felt like fate. The dress fit. I loved it. But it was the only one I had tried on. I told the seller I needed a couple days to think about it. Neither J. Crew or Nicole Miller could bump up my appointments, but one Washington bridal salon that shall remain nameless was able to squeeze me in during a lunch hour. The consultant at the salon was nothing like Randy. She was snooty and impatient, and even the dresses she deemed appropriate for the beach were beaded and heavy. And all of them were way more expensive than the Marchesa I had found for a steal. In hindsight, I should have thanked that miserable woman for being so terrible at her job, because she made my choice that much easier.
I bought the Marchesa. That was more than a year ago, and I haven't regretted it for a second. I'm not usually so impulsive, but I guess those girls on Say Yes to the Dress are on to something. I really did "just know." (Obviously, you're going to have to wait to see photos until after the wedding.)