Given that news these days is broken almost entirely in
pixels rather than in print, the arrival of the Newseum's newest
gallery,
the HP New Media Gallery, feels almost belated. But make no
mistake–the technology behind it is brand new, from the two HP
VantagePoint wall screens to the HP Photon Engine software that
collects information in real time and displays it in 2- or
3D. In other words, dusty old artifacts and anachronistic
galleries this ain't.
The New Media Gallery is the Newseum's first permanent
gallery to open since it moved to its current space on the National
Mall in 2008. "We realized we needed to do a lot more on new
media," says the museum's senior vice president for broadcasting,
Paul Sparrow. "Our key value is
participation." The new gallery, Sparrow says, is a "living laboratory,"
where visitors can explore scrolling
feeds of the day's biggest news story, enter their names and
photos to be instantly seen and broadcast around the Newseum,
and create their own Web-oriented front pages.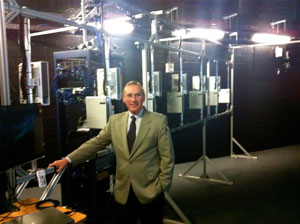 Of course, putting the consumer in charge of the news has
some downsides–on the day of the media preview, some aspiring editor
had created a page called "The Poop Daily." The technology is
designed so other visitors can flag unsuitable content, but
with a title as good as that, who's complaining?
In a nod to the quicksilver pace of technological evolution, all the hardware is designed to be changed out and updated whenever
necessary. Hewlett Packard's VP for innovation programs,
Carlos Montalvo, says the exhibit is supposed
to be something like a control room–a physical manifestation of the news
"bubble" we spend
most of our days in. "News unfolds organically now–it begins
with one source, but quickly spreads," Montalvo says. "You no
longer have single points of organization." The display boards
allow visitors access to multiple sources of information, coming
in through news sites, social networking feeds, and more, while
also displaying the biggest digital news stories of the past
few years.
Montalvo took us behind the scenes to the gallery's
control room, which is essentially a handful of tiny projectors, a
monitor,
and a hard drive. In a year or so, it's possible the equipment
will be even smaller. Does this make the exhibit as moving
as, say, the Pulitzer Prize Photographs Gallery, or as visually
shocking as the 9/11 display? Not necessarily. But it's at
least a thorough acknowledgment of the changing nature of the
news, and some impressive new technology to boot. "These phenomenons
are evolving daily," says Montalvo. "Decision makers should be
able to see and explore as much information as possible."
The HP New Media Gallery is on the Newseum's fourth floor. For more information, visit the Newseum's website.