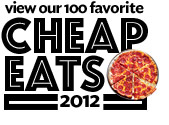 Ethiopian cooking is essentially homecooking, so the thing to
seek is a grandmother or mother who rules the kitchen—and whose cuisine is
full of generosity, loving attention to detail, and gracious presentation.
At this modest coffee shop, that would be Kelem Lemu, who often can be
found spooning her wats, or stews, atop spongy rounds of
injera, soliciting feedback about spice levels, and inquiring
after diners' happiness.
She displays a light touch in the kitchen, where hearty fare
such as kitfo, an aggressively spiced beef tartare, and doro
wat, chicken and egg bathed in a sweet, spicy red-pepper stew, are
rendered with clarity and cleanness. It's a testament to her gifts that
the simpler vegetable dishes, including a gingery beet-and-potato salad
and a velvety split-pea stew called kik alicha, are strong enough
to stand on their own.
Also good: Chicken and lentil sambusas,
three-cornered fried pastries; shagga kitfo, with
ayeb (Ethiopian cottage cheese) and mitmita (red-pepper
spice); beef tibs.