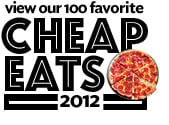 The Clarendon area is increasingly known for its neighborhoody Modern American bistros, but a few decades ago it was nicknamed Little Saigon. A handful of Vietnamese restaurants remain, and this quiet, white-tablecloth dining room on the ground floor of an office building is the standout—not just in Arlington but in all of Washington.
Spring rolls are very good but outshone by the more unusual sweet-potato-and-shrimp cakes, which you wrap in lettuce and dunk in nuac mam. Bowls of cool vermicelli and shredded cucumber topped with charred, sweetly marinated pork make a nice light meal for one, but the more people at the table the better. That way you can sample the range of the kitchen's talents, from brightly flavored salads to caramel clay pots to shrimp-and-pork-stuffed crepes.
Also good: Green-papaya salad; shredded-chicken salad; pork meatballs in fish sauce; shaky beef with lime-and-pepper dipping sauce; five-spice chicken; young-coconut juice with curls of the fruit.