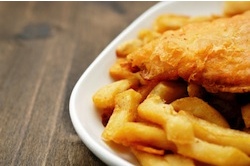 Fish and chips, shepherd's pie, and mini beef Wellingtons are set to arrive in Glover Park with the opening of Mayfair & Pine, a gastropub helmed by husband-and-wife chef team Emily Sprissler and Jason Cote slated to move into the former Town Hall space. Sprissler, a DC native and a Top Chef season two alum, shared a sample copy of the menu, which she says will continue to evolve before the slated July 19 opening.
Though pub-grub staples are among the offerings, the all-day lineup adheres less to the British Isles than the freshly opened Brixton pub on U Street. Items like a classic shrimp Louis and cioppino recall the couple's time in San Francisco, and Asian touches such as mirin-glazed rib eye draw from Sprissler's stint at Shibuya in Las Vegas—where both she and Cote also cooked at Michael Mina's Nobhill Tavern. Sprissler's personal favorites also make an appearance, including an open-face Thanksgiving sandwich with a stuffing-esque bread and layers of brined roast turkey, gravy, and a side of cranberry aïoli; and bacony potato skins stuffed with crab.
If the menu gets your stomach rumbling, check back with us for more details next week.
See Also:
Fruit Bat Space Will Become BARCADE, An '80s-Themed Arcade Bar
5 Things to Expect at the New Logan Circle Restaurant From the Acqua Al 2 Duo