Do you love the neutral palette and effortless cool of Scandinavian
design? This minimalist style has many components that
are great for small spaces: light, versatility, brightness, and
accessibility. Here're a few ways to create the look at home.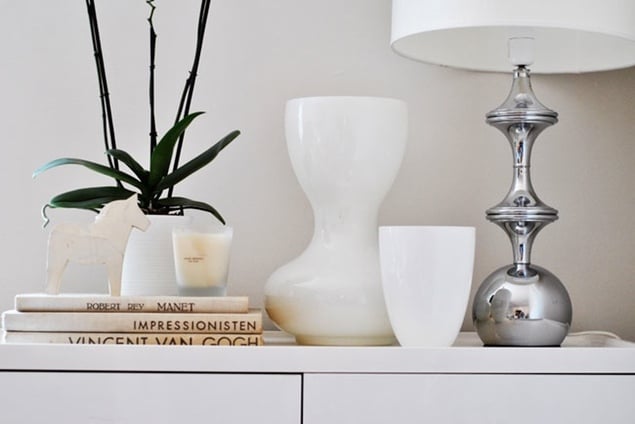 Bring the outdoors in. A dash of earthy green is perfect for creating that Scandinavian vibe. Get the look by adding live plants to your vases, or
by accenting with an indoor tree. Add other elements in glass, felt, and wood to extend that outdoorsy feel.
Embrace white tones, and layer away. Get a modern yet timeless look by using neutral tones—whites, creams, beiges—in decor and furniture. Don't forget to layer
pieces and introduce height.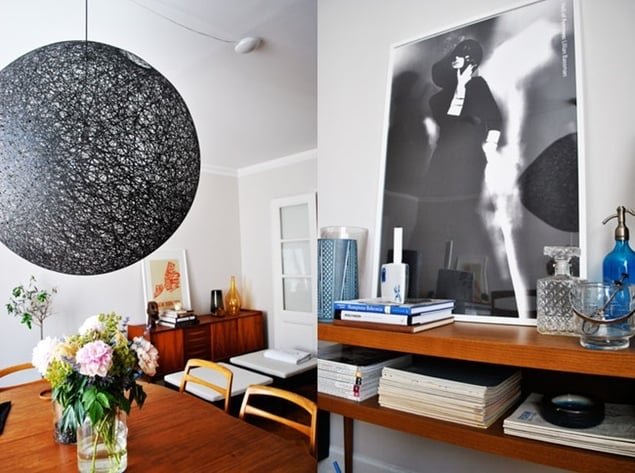 Add a strong contrasting focal point. Since
much of Scandinavian design is centered on whites and woods, establish a
focal point using another unique material and
color. This round light pendant on display at my friend's
apartment in Stockholm (above) nails the idea—it's a contrasting
color, has clean lines, and allows light to stream through.
Introduce color through pattern. This type of design often has curated color that appears in doses through patterns, like with the pops of blue above.
See Also:
Small Space Dwelling: Vertical Gardens
Small Space Dwelling: Home Sweet (Temporary) Home