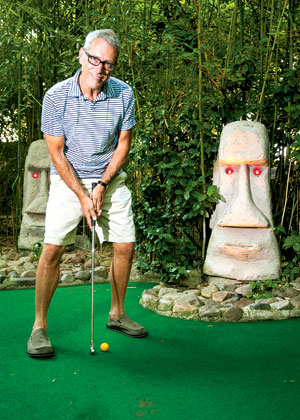 On July 4, the National Building Museum (401 F
St., NW; 202-272-2448) unveiled an indoor mini-golf course, open through
Labor Day. The 12 holes are tributes to the world of design—one features a
labyrinth. It's $5 a round, $3 with museum admission. There are other fun
and offbeat courses in the area, and Dwight McNeill, an
architect at Morris-Day (neither he nor his firm participated in the
Building Museum project), has played almost every one. He grew up in North
Carolina, and his aunt owned a course at Carolina Beach. A few years ago,
looking for a nostalgic way to celebrate his birthday, he got back into
mini-golf.
Classic Fun
Rocky Gorge 4 Seasons Golf Fairway
"This course, built in 1965, is so quirky," McNeill says. "It's
got a windmill, a Washington Monument, a man-eating Christmas tree—it
looks like that anyway." (For the record, it's a singing Christmas tree
but is broken.) "The course is a bit rundown, but the bones are intact and
it plays well. A 19th hole claims to be the longest mini-golf hole in the
US—all downhill." Monday through Saturday before 6, unlimited play for
$4.50; evenings, Sundays, and holidays, $6.50 a game. 8445 Old Columbia
Rd., Laurel; 301-725-0888.
Made in the Shade
The Magic Putting Place
Not just one old-school course but two. The Windmill Course
features, naturally, a windmill; the Magic Castle course has a turreted
castle and shady trees that, says McNeill, "make this course, with a busy
intersection on two sides and a parking lot on another, feel like an urban
oasis." General admission $4 to $5 depending on day and time. 8902 Mathis
Ave., Manassas; 703-257-7888.
Kitschiest Course
Woody's Perils of the Lost Jungle
The area's most unusual mini-golf, this course features a
gorilla crashing out of a bush, a venom-spitting snake, and monkeys
swinging in the trees. "It's like putt-putt meets Disney," McNeill says.
The line can be long, especially at night (it's open until 10 in summer),
the pace can be slow, and most holes are easy par-twos. Still, McNeill
says, "It's a course you've got to do one time at least." Adults $10,
children ages 3 to 12 $9, seniors $9.50. 11801 Leesburg Pike, Herndon;
703-430-8337.
Best Surprise
Upton Hill Regional Park
This county course is one of McNeill's favorites. "It's a very
playable course, and it's fun," says McNeill, who especially loves the
waterfalls—when they're working. "For the most part, it's well maintained.
The most memorable hole is one that's a long downhill—you can't see where
your ball is going when you putt it. So you're surprised." Adults $6,
seniors and children ages 12 and under $5. 6060 Wilson Blvd., Arlington;
703-534-3437.
This article appears in the August 2012 issue of The Washingtonian.