I was immediately drawn to the bold blue in George Iso's "Red Stone," and was interested
in the inspiration behind the work. The fact that he has a background in architecture
suggests the impulsive lines could be representative of his past training.
What interests Iso is the exuberant throbbing of cities, channeled by the fluidity
of his forms and color schemes. According to the artist's website: "The act of committing
himself to the canvas by way of gestures, with no [preexisting] order, makes Iso's
abstractionism akin to the tradition of North American abstract expressionism. With
no prior logical requirement, the canvas is the result of the artist's immediate impulse
as he directly faces the surface."
"Red Stone" reminds me of a cozy library, with warm, rich leather, wood, stacks of
classics, and the faint scent of a pipe. Curl up with a cup of coffee and bask in
the feeling of being transported to another era.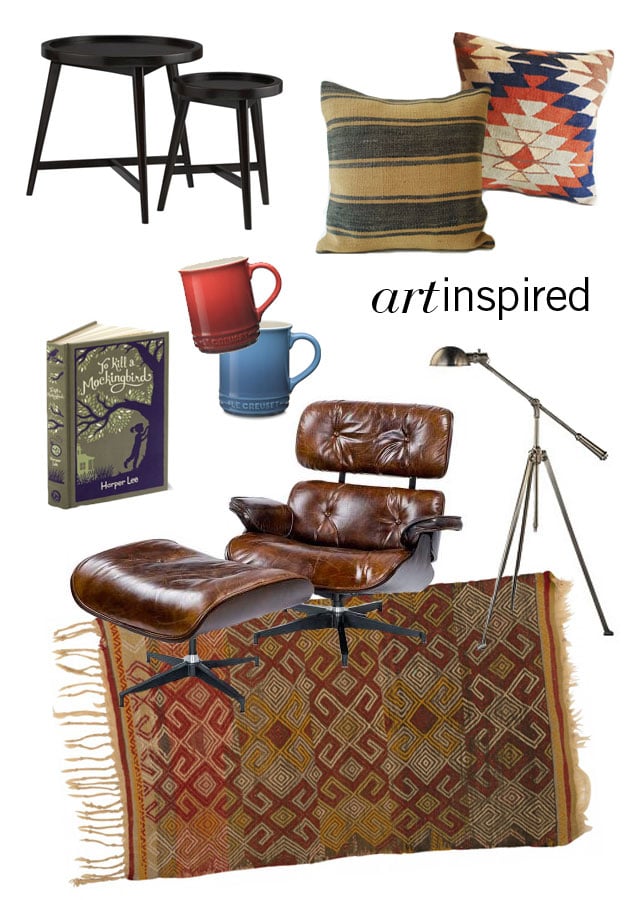 Inspired items (clockwise from top left): Hudson round nesting tables from Crate &
Barrel; kilim pillows from Sukan; Winston tripod pharmacy floor lamp from Interior
HomeScapes; vintage Jijim rug at Jayson Home; vintage leather modern lounge chair
and ottoman from Clayton Gray Home;
To Kill a Mockingbird from Barnes & Noble; and Le Creuset mugs from Williams-Sonoma.
Meg Biram writes about interiors, art, and fashion on her blog, Mimi + Meg.