Here at Shop Around, we're ardent believers in wardrobe double duty. Sure, we love a fresh outfit as much as the next girl, but decidedly un-Kardashian levels of cash flow means we never invest in new clothes unless we can wear them at least three different ways. Curious to see how our fellow Washingtonians extend the life of their wardrobes, we challenged some of the most fashionable local ladies we know to style an outfit for every day of the week using their favorite item of clothing. And thus was born 7 Days, 7 Ways, a new feature we're really excited about. Up first: Liz Owens, a 27-year-old account manager at Cvent, rocking a pair of BCBG leather leggings.
Monday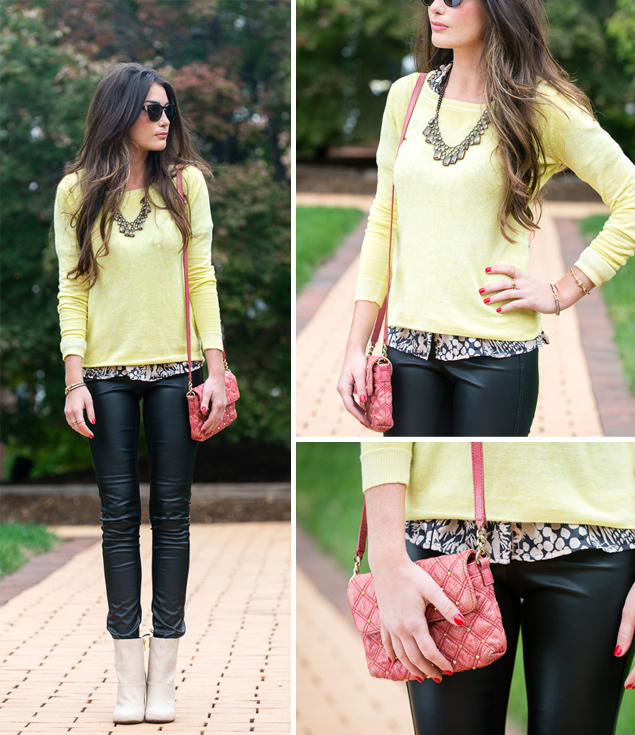 This summer sweater is one of my favorites. The weather's getting colder, but I'm just not willing to part with it yet. The blouse and booties help transition it to fall, and give it enough polish for my casual office environment.
H&M boots and sweater, Banana Republic blouse, J.Crew necklace, D&G men's sunglasses, Marc Jacobs bag, and Smashbox Mandarin lipstick.
Tuesday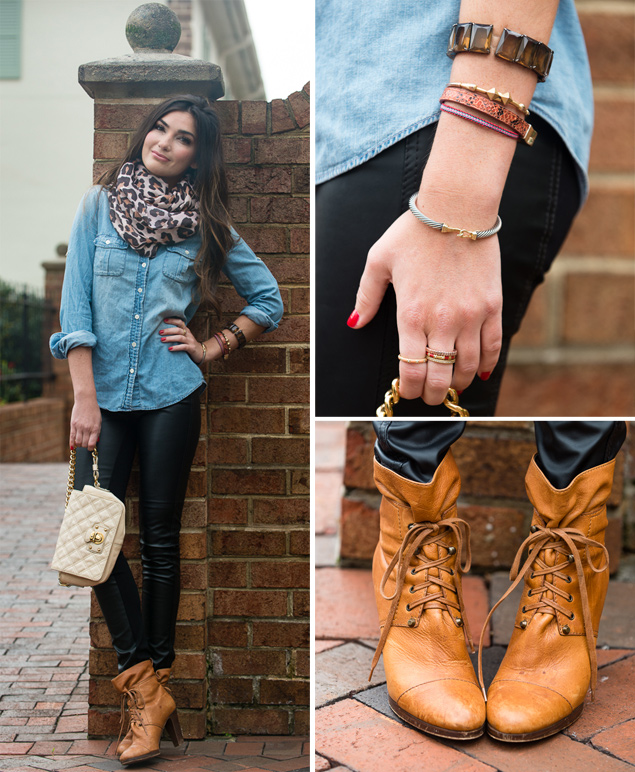 This chambray top is a cool, casual contrast to the leather legging, making it perfect for daytime. I tend to add leopard print in small doses, like here in this infinity scarf or in a smoking slipper.
H&M scarf, J.Crew lace-up bootie and chambray shirt, Marc Jacobs purse, and assorted bangles.
Wednesday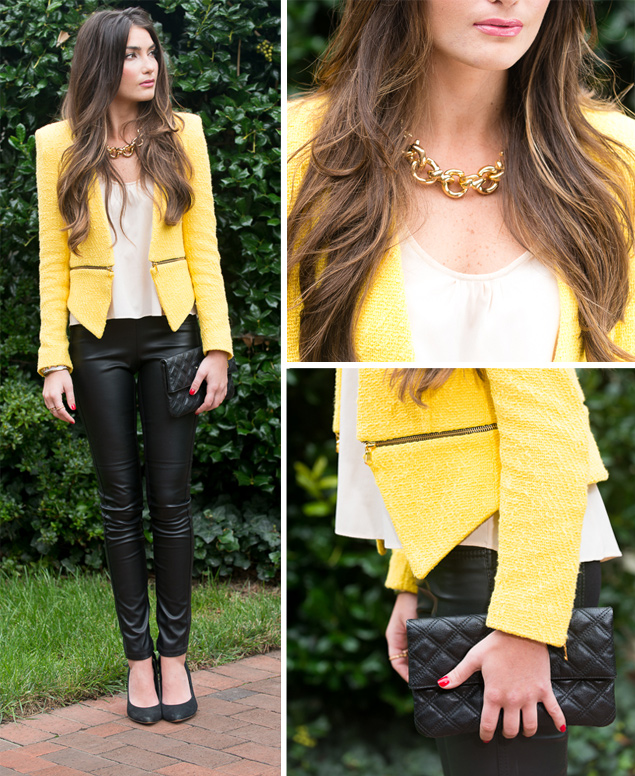 Now this is my type of tweed. The edgy details of the jacket paired with the legging give a twist to this classic look. I feel perfectly polished but not a bit stuffy.
Zara blazer, Madewell undershirt, J.Crew gold chain necklace, and Gap pumps.
Thursday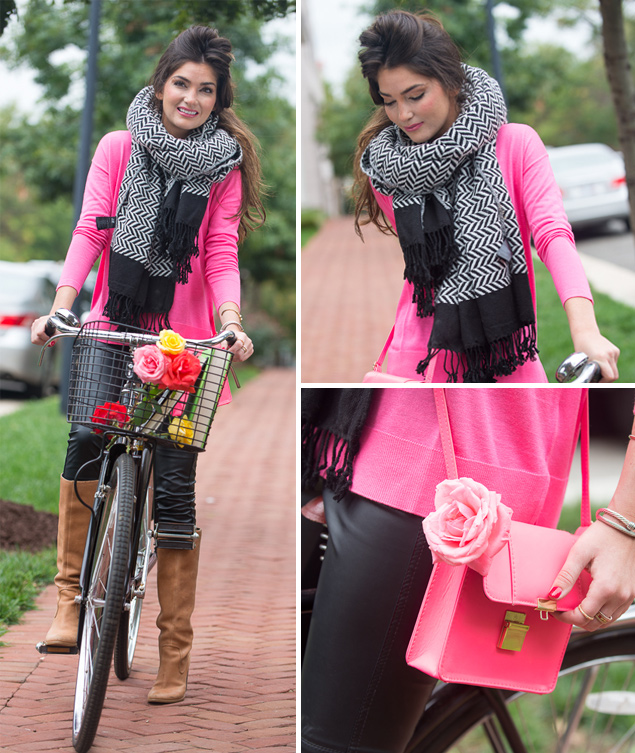 It was love at first sight with this H&M shawl. It's great for sporting events or a trip to the vineyard when you don't know whether you'll need a little extra warmth.
H&M scarf, sweater, and purse.
Friday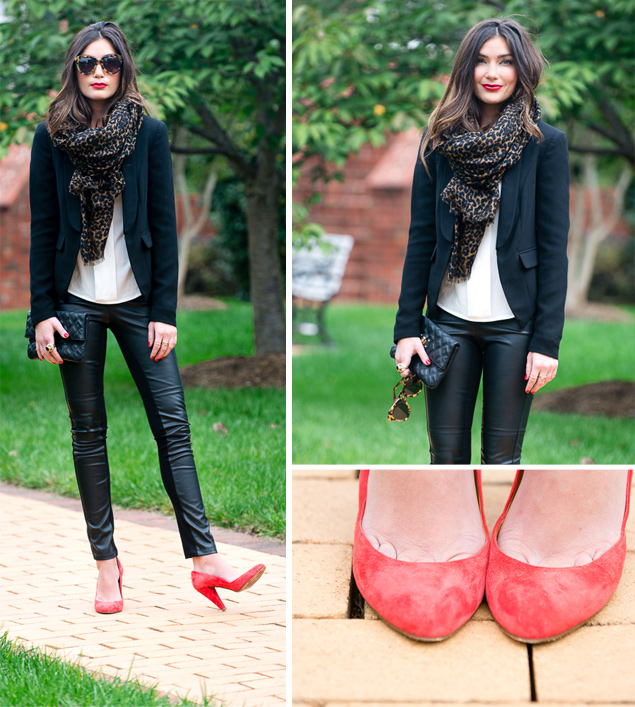 I couldn't do seven looks without a classic black blazer. It's such a wardrobe staple and serves as a great day-to-night piece. I'd wear this with flats to the office, then lose the scarf and add red pumps for an evening out.
Madewell pumps, Banana Republic blouse, J.Crew scarf, blazer from Macy's, Karen Walker sunglasses, and Bobbi Brown lipstick in Red #10.
Saturday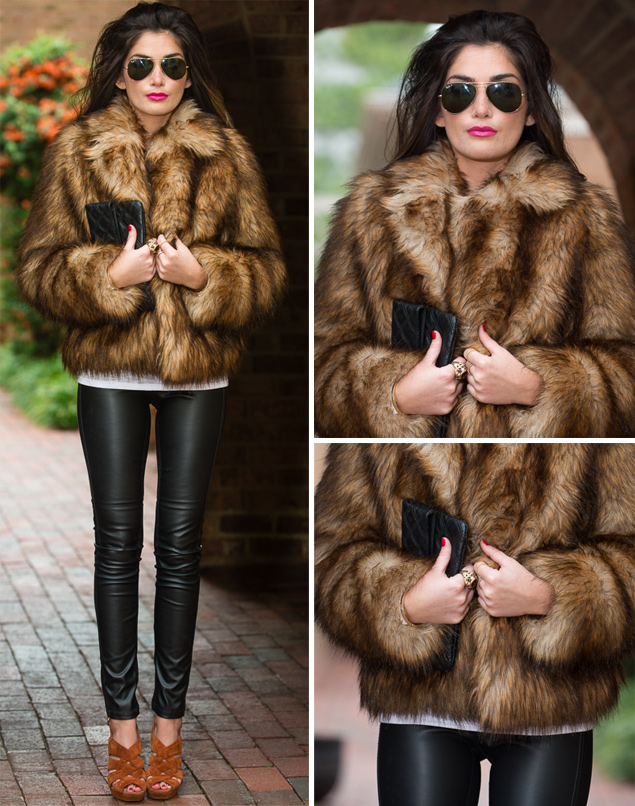 Who doesn't love faux fur and an obnoxious tease? I am a product of the '80s, after all. This coat makes me feel like a rock star even when I look like Ozzy Osbourne. I typically pair it with more casual looks, but leather leggings? C'mon, I had to.
H&M fur coat, Steve Madden sandals, Marc Jacobs clutch, Ray Ban aviators, and Juicy Couture cocktail ring.
Sunday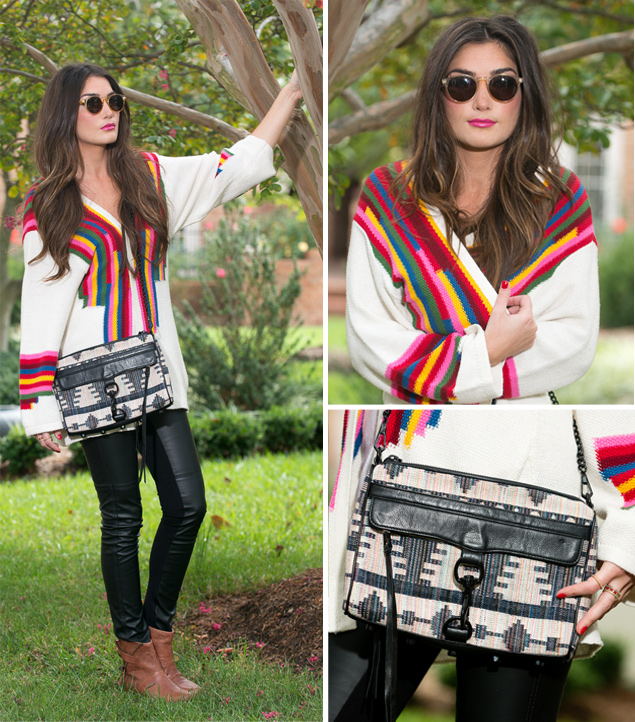 There's nothing cozier than an oversize wrap cardigan. I paired this one with flat boots for boho-chic vibe—perfect for a lazy Sunday of football and beer.
Beyond Vintage cardigan, Nine West booties, and Rebecca Minkoff purse.
All Photographs by Andrew Propp.
Want to show off how you make your favorite article of clothing work for everyday of the week? E-mail szlotnick@washingtonian.com three to four outfit examples, and you could be featured in 7 Days, 7 Ways!