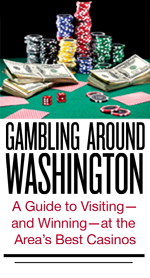 Atlantic City, New Jersey; 855-348-0500
Distance from DC: 193 miles
Best reasons to go: Atlantic City's newest
hotel casino has a terrific slots collection, including the hot Michael
Jackson slot machine, which features surround sound and high-backed chairs
that pulsate with the music. Recently, the machine was offering a jackpot
of more than $500,000. One cool feature of the very high-tech Revel is
that if a favorite machine isn't available, you can request it: From a
library of some 100 slot themes, the casino can put it on a console for
you.
Other bets: The $2.4-billion casino is plush
but not snobby—table games are priced for the occasional gambler.
Disappointingly, the poker room was relatively empty on two recent visits,
and Revel doesn't have—or plan to allow—betting on horses. Some of the
best games are scattered throughout the hotel. On the way back to my room,
I was invited to play pool for fun, and others nearby were playing
foosball.
The scene: Revel CEO Kevin DeSanctis says his
vision of Revel is as a "party place." By 3 am, security personnel were
picking drunks off the floor. Booze is free-flowing, and at Ivan Kane's
Royal Jelly Burlesque Nightclub, scantily clad dancers traipse across the
bar. On a recent visit, I encountered Jennifer Lopez and her entourage in
a 3 am craps session.
Take a break: Revel offers ten pools,
including a beautiful heated one that's half indoors, half out. Among the
many restaurants are a version of Michel Richard's Central and Robert
Wiedmeier's Mussel Bar.
What you should know: You don't have to be a
hotel guest to use its amazing Bask Spa, which has workout facilities,
heated mineral pools, a Turkish bath, and a salt grotto. Day passes are
$55 for guests, $70 for non-guests; if you book a treatment, the fee is
waived.
Bottom line: Revel is an architectural marvel,
but its size can be intimidating. All this new casino lacks right now is
customers.
This article appears in the November 2012 issue of The Washingtonian.