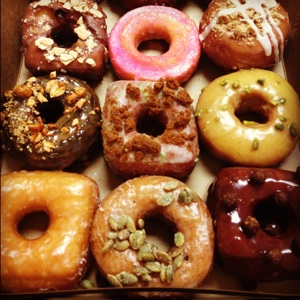 As we prepare ourselves for the full fried chicken and doughnut onslaught, GBD—the forthcoming Dupont venture from the Neighborhood Restaurant Group—will debut its offerings a little early.
Head to 14th Street NRG restaurant Birch & Barley to experience doughnut flavors from pastry chef Tiffany MacIsaac—those include boozy butterscotch and bacon, Snickers, grapefruit-Campari Old-Fashioned, and apple fritter. The doughnuts will be sold in packs of four, and each box costs $8. While you're at it, might as well sample chicken from MacIsaac's husband, chef Kyle Bailey. Choose a drumstick and thigh or four chicken "tendies"; each is offered along with a seasonal side, a crème fraîche biscuit, and your choice of two house-made sauces for $8.
This is happening on Friday, February 15, and Friday, February 22; the sale begins at 11 AM and lasts until there are no more doughnuts or chicken to sell. In case you are wondering, GBD stands for Golden, Brown, and Delicious. It is taking over the former Yola space at 1323 Connecticut Avenue, Northwest.
See also:
Cool Disco Donuts Changes Its Name the Day Before Opening
Surprise Opening Alert: Cool Disco Donuts (Pictures)
Astro Doughnuts Is Popping Up at Chinatown Coffee