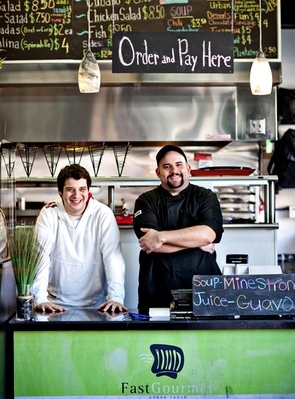 Night owls, rejoice: There's a new haunt opening on M Street this Friday, with plans to eventually serve around-the-clock from breakfast until 5 AM. Brothers Manuel and Juan "Nacho" Olivera, the former general manager and head chef/co-owner of 14th Street's popular nocturnal hangout Fast Gourmet, respectively, are behind the 50-seat restaurant.
Though the duo are no longer affiliated with the gas station eatery, you'll find similar Uruguayan and Argentinian influences on the menu, as well as a few crossover items. So yes, you'll be able to get versions of the much-discussed chivito sandwich and Cuban. Try a new combination such as duck confit with apricot, Brie, and arugula, a lamb and roasted kale lavash, or fresh focaccia with tomato spread, Manchego and Serrano ham. Salads and daily pastas round out the afternoon menu.
A new focus for the Oliveras is happy hour, especially given their
location amid offices filled with thirsty employees. Sample red and
white sangria, a wine list boasting bottles predominantly from Spain and
Argentina, cocktails, and local brews like DC Brau and Dogfish (deals
will vary). The evening menu will shift to tapas-style offerings while
maintaining a relaxed atmosphere—hence the restaurant's name—with
drink-friendly items such as ham, salted cod, or corn croquettes, cheese
and charcuterie boards, quail escabeche, and grilled calamari. Rotating entrées are also in the works. You might find house-made crawfish ravioli, veal Milanese stuffed with crispy pancetta and Manchego, or grilled local beef churrasco with
chimichurri sauce. Late night brings a return to more casual fare, with
sandwiches and diner-style egg dishes, many with a Latin twist.
The
restaurant hosts a soft opening on Thursday, and officially opens to
the public on Friday at 11 AM. Opening weekend hours are abbreviated—11
AM to midnight on Saturday and 10 PM Sunday—but look for regular service
to start next week, meaning you'll find eats until 2 AM Thursday and 5
AM Friday and Saturday. The brothers plan to begin serving breakfast and
brunch once the operation is up and running smoothly. Check back in
with us for more details.
TakEatEasy.
1990 M St., NW; 202-290-2440. Regular hours (starting the week of
February 11): Monday to Wednesday 11 AM to midnight, Thursday 11 AM to 2
AM, Friday and Saturday 11 AM to 5 AM, Sunday 11 AM to 10 PM.