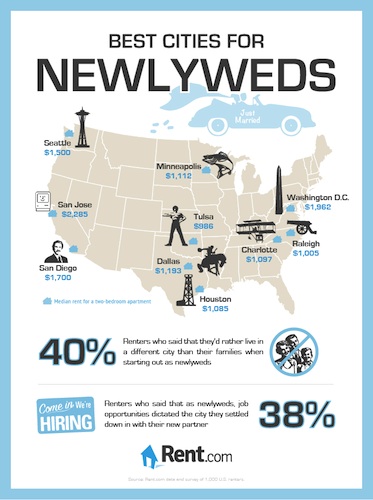 More newlyweds live happily ever after in DC than in many other cities, according to a list compiled by Rent.com. Taking a wide array of factors in consideration, such as the number of married couples, families with children under the age of six, mean annual income, cost of living, and rental availability in each city, Rent.com determined which cities are predisposed to marital bliss—and the District made the cut.
"[DC offers] everything from cultural excursions (like the Smithsonian) to political events to walking through slices of history at every street corner. With a high mean annual income, newlyweds are more likely to be able to enjoy all that the city offers," the company explained in a press release announcing the results.
After surveying 1,000 national renters, Rent.com also found out that almost 40 percent would rather live in a different city than their families and that 38 percent cited that job opportunities dictated the city where they chose to settle down.
Here is the full list of newlywed-friendly cities from the Rent.com survey, arranged in no particular order.
Dallas, Texas
Seattle, Washington
Raleigh, North Carolina
Washington, DC
San Jose, California
Charlotte, North Carolina
Minneapolis, Minnesota
San Diego, California
Tulsa, Oklahoma
Houston, Texas