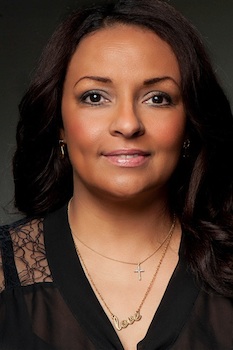 With more than 20 years of experience as a professional makeup artist, Lianne Farbes, the beauty guru behind the award-winning blog TheMakeupGirl, knows a thing or two about the best products on the market. After gigs at such brands as Lancôme, Clarins, and Borghese, Farbes founded TheMakeupGirl in 2006—and it's since become a must-read resource for beauty junkies nationwide. We caught with the DC-based beauty expert—who is also a backstage regular at New York Fashion Week and a brand ambassador for Avon, Aveeno, and RoC Skincare—to get the details on her all-time beauty must-haves.
1) Cover Girl Lash Blast Clump Crusher Mascara
Lianne says: "One thing I don't really splurge on is mascara. Why? Because you can get one that will give you everything you need at your local drugstore. This one is buildable and gives you major lashes, plus it's less than $7." $6.89 at drugstore.com.
2) Face Atelier Façade in Chameleon
Lianne says: "I love a good multi-use product, and this one is fantastic for giving you that flushed, pretty look for your cheeks and also doubles as a stain for your lips. The silicone-based, liquid-to-powder formula provides translucent, non-streaking color that's both buildable and matte. It just makes you look like you have been at the beach all day." $27 at Face Atelier.
3) Clinique Chubby Stick Shadow Tint for Eyes in Ample Amber
Lianne says: "I love this just in the corner to brighten up your eyes, but it also works all over the lid for a pretty and natural look. It's easy to use and blend, and it's shimmery but not glittery, which is important, because nobody wants to look like a disco ball." $16 at Clinique.
4) Restorsea Restoring Night Cream
Lianne says: "Now that I am closer to 50, I need an anti-aging powerhouse that will help keep my skin looking fresh. This one uses something called Vibransea Complex that will give you the anti-aging benefits of glycolic acid without any of the side effects or irritation. I love how my skin looks in the morning, people tell me my skin looks great, and nobody ever believes I am 46." $175 at Restorsea.
5) Vaseline Cocoa Radiant Deep-Conditioning Cream
Lianne says: "My skin is super dry, and this is one of the things I like to stockpile in case they ever discontinue it. It's a nice rich cream that isn't greasy and keeps my skin looking great no matter what season it is." $4.29 at drugstore.com.