Joanna Brenner says she leads a double life. By day, you'll find her at Pew Research Center tweeting away as Web coordinator. But once her workday is over, she switches her work clothes for Spandex and is on her way to teach a cycling class at Biker Barre or Balance Gym four times a week. And when she's not leading cyclists through one of her fast-paced, high-energy classes, she's going for a run or taking barre classes.
In other words, Brenner's "double life" requires a lot of energy. To fuel up, she says she's constantly eating and doesn't feel bad about giving into cravings: "I've found a way to maintain a healthy lifestyle while still incorporating my second favorite food of all time: cheese."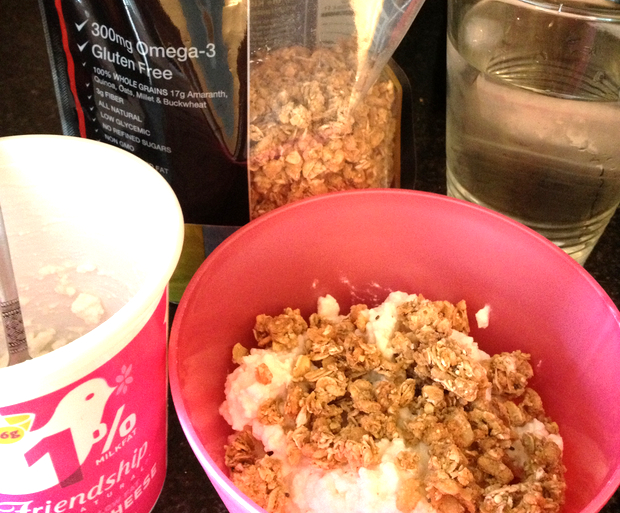 Breakfast: "The day started at 7:30 AM. Right away I craved cheese. What I really wanted was a thick grilled cheese sandwich with tons of melty Trader Joe's Manchego cheese, but I knew that would sit in my belly heavily and make me feel sluggish. So instead I opted for a less heavy/greasy alternative: cottage cheese and granola. I like Friendship brand the best. It's low-cal, full of calcium and protein, not too thick, and delicious! Mixed with a few spoonfuls of all-natural, gluten-free Kind granola with quinoa and chia seeds, it keeps my brain full of energy and my body full of protein for the day while satisfying my cheese craving. And I always start my day with a glass of water—the cheapest and easiest way to stay healthy and energized. I drink no less than 64 ounces a day. Off to work!"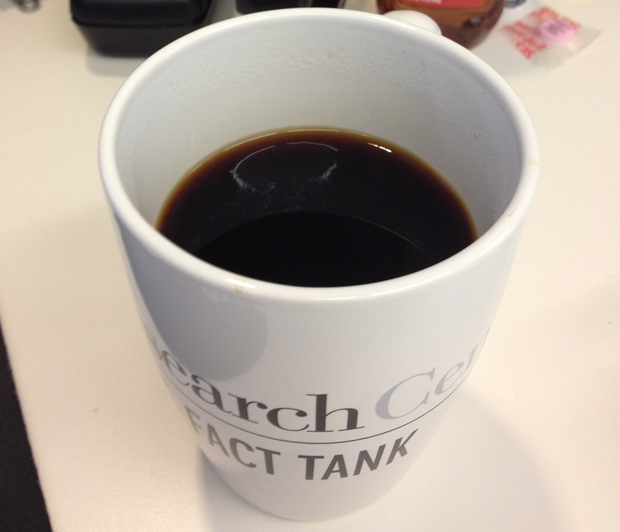 Morning coffee: "We all have our vices—I've got tons. One of them is coffee. I love just about everything about coffee—the smell, the taste, the buzz, the warmth, the richness, and the routine cup I have every morning after I've turned both my computers on. My coffee gets me through the morning tweets and prepares me to dig in."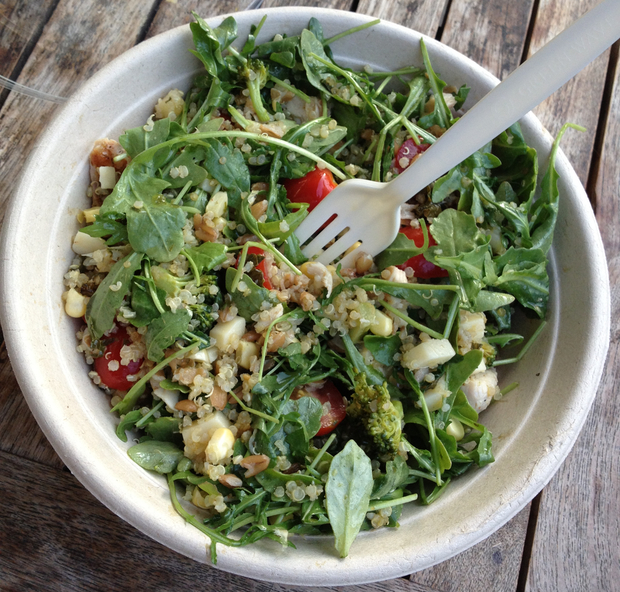 Lunch: Sweetgreen earth bowl plus juice. "After a few hours of running the social beasts, I snuck out to my favorite lunch spot: Sweetgreen. I knew I'd want something delicious that would keep me full for the next few hours so I could plow through the rest of report day. Enter: the earth bowl. This puppy's got warm grains, arugula, roasted chicken, white cheddar, grape tomatoes, raw corn, spicy broccoli, and yummy pesto vinaigrette dressing. It's colorful, delicious, nutritious, filling, and packed full of energy. While at Sweetgreen, I also picked up one of the Sweetpress juices—this one is called Purify, which has apple, kale, spinach, cucumber, lemon, and ginger. I stuck it in my fridge when I got home and had it with breakfast the next day."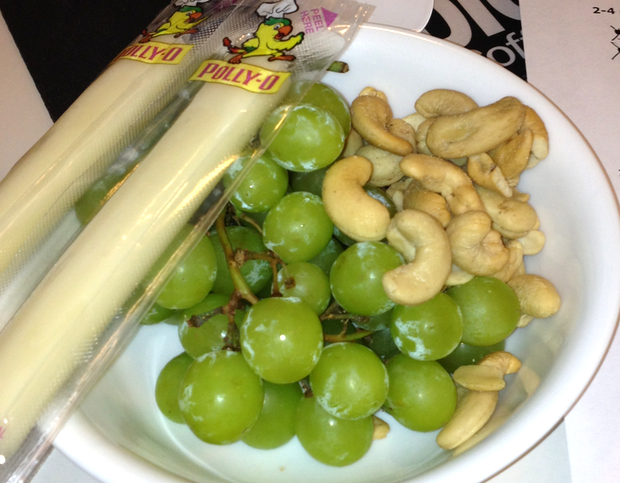 Afternoon snack: "Tweeting makes me hungry. And I knew I'd need something to fill in the gaps between work, teaching, and dinner, so I'm glad I brought my go-to snacks: cashews, grapes (my favorite fruit), and, my favorite midday snack of all time, string cheese. The combination of protein, salt, and sweet: snacktastic."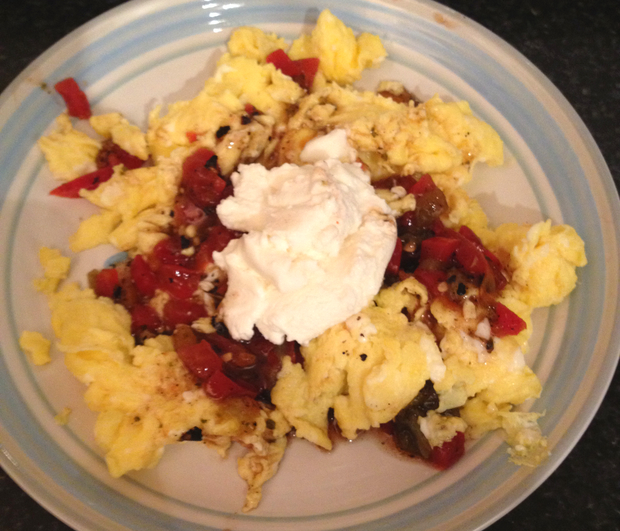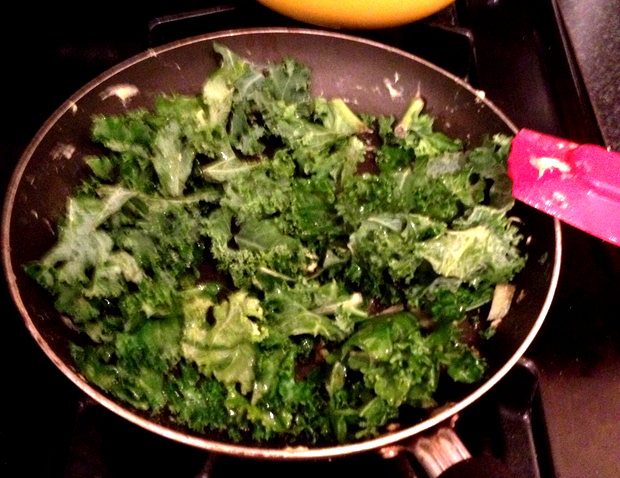 Dinner: Eggs, salsa, ricotta, and kale. "By the time I got home, it was almost 8:30. Whew! It had been a high-octane day, with a report release at work and my first spin class at the new Foggy Bottom location for Balance Gym. I was hungry. Being that it was late and I was tired, I opted for health and instant gratification. I quickly whipped together some scrambled eggs for protein, and for flavor topped them with salsa fresca and—you guessed it—cheese. This time I went with a large dollop of ricotta, which is creamy and delicious while still low-cal. To complete the meal, I sautéed some kale with olive oil and garlic. The eggs took me about four minutes to make and the kale about four as well. Take that, Rachael Ray!"
Disclaimer: The Food Diaries series is intended to be inspirational and is not an endorsement of each individual's diet.

You Might Also Like:
Are you a local health, fitness, or nutrition expert with a love for food? E-mail wellbeing@washingtonian.com to find out how you could be featured in our Food Diaries series.