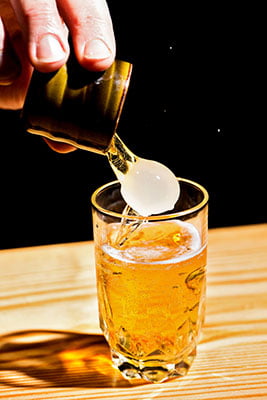 Daikaya has always seemed perfect for late-night noshing, with its sultry lighting, dark wood,
and abundance of sakes, beers, and Japanese whiskey.
Now the chance has arrived. The
izakaya launches its first-ever late-night menu this weekend, running Friday and Saturday
from 11 to 1. (Drinks are served until 2). You'll find the same style of small Japanese pub plates, with a number
of fried and carb-heavy options perfect for soaking up the aforementioned potables;
think
okanomiyaki-style tater tots and a selection of
bao—typically steamed buns, here using Hawaiian king bread—stuffed with the likes of
pork belly and fried chicken with Sriracha and maple syrup. Those with a sweet tooth
will find Asian riffs on throwback desserts, such as a grilled doughnut sandwich with
ginger gelato and a pop tart ice cream sandwich.
Check out the menu and start
planning your order before those molecular sake bombs kick in.