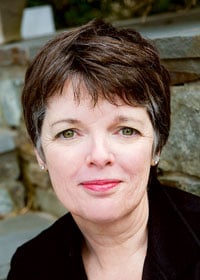 Alice McDermott, one of Washington's most acclaimed writers, is one of ten writers longlisted for a National Book Award for fiction. The judges have selected Someone, McDermott's novel about a woman living in Brooklyn around the time of World War II, for this year's group, along with books by Thomas Pynchon, George Saunders, James McBride, Rachel Kushner, and more.
McDermott was first selected as a finalist for the award in 1987 for her novel That Night, which was also a finalist for the Pen/Faulkner Award and the Pulitzer Prize. She won the National Book Award in 1998 for Charming Billy, the tale of an Irish-American community mourning a lovable but melancholy rogue.
Someone, says Washingtonian reviewer John Wilwol, "unfolds through a series of snapshots capturing the life of a woman living in Brooklyn before, during, and after the Second World War. The stories are lean and deliberate, and they appear to be randomly assembled, like snapshots pulled from an old shoebox. But as the exquisite images and poignant truths add up, we're reminded that nothing happens in a McDermott novel by accident. This is a writer in complete control."
Read the full review. The finalists for the award will be announced October 16, and the winner November 20.