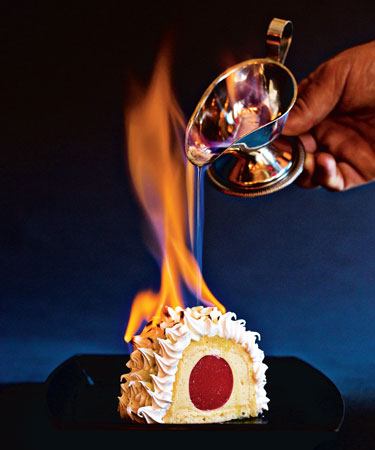 1. Baked Stuffed Shrimp
Crisfield Seafood Restaurant (8012 Georgia Ave., Silver Spring; 301-589-1306)
Founded in 1945, this stalwart still serves dishes like those popular in its opening year, including crab-stuffed shrimp with a buttery crumb crust ($25 per platter).

2. Crab imperial
Johnny's Half Shell (400 N. Capitol St., NW; 202-737-0400)
This casserole-like classic was once as ubiquitous as the crabcake. Johnny's reminds us why with its rich house version ($31).

3. Pike quenelles in lobster sauce
La Chaumière (2813 M St., NW; 202-338-1784)
Regulars at this Georgetown old-timer never tire of its delicate fish dumplings in a robust lobster sauce ($19).

4. Baked Alaska flambé
Mintwood Place (1813 Columbia Rd., NW; 202-234-6732)
This ice-cream cake inspires nostalgia in and of itself. That waiters ignite its meringue dome tableside, using flaming Chartreuse, makes it all the more special ($8).

5. Châteaubriand
L'Auberge Chez François (332 Springvale Rd., Great Falls; 703-759-3800)
Béarnaise-coated, center-cut filet for two still symbolizes the height of elegance at this 59-year-old favorite ($160).

6. Strawberries Romanoff
The Prime Rib (2020 K St., NW; 202-466-8811)
Chase a martini-and-steak lunch with a luxurious dessert of orange-liqueur-marinated strawberries and whipped cream ($15).

7. Filet Rossini
Ray's the Steaks (2300 Wilson Blvd., Arlington; 703-841-7297)
These butter-sautéed filet-mignon medallions—topped with truffled porcini mushrooms and marrow-enriched wine sauce—exemplify old-school decadence ($40).

8. Liver and onions
Ris (2275 L St., NW; 202-730-2500)
Forget the grim diner version. Chef Ris Lacoste's Thursday special dresses up hearty calf's liver and sautéed onions with sherry and bacon ($20).

This article appears in the November 2013 issue of Washingtonian.