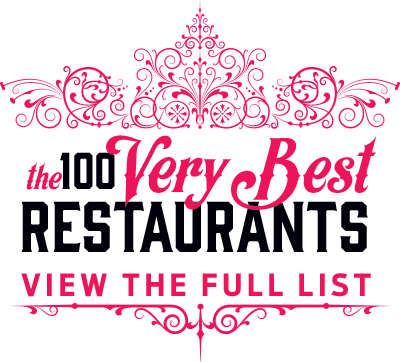 At this tiny hipster ramen house, loyal fans sit elbow to elbow on 27 wall-facing stools. If there isn't much comfort in the chaotic room, crammed with Taiwanese action figures, there's plenty in the bowls of ramen that the place is known for (and that command long waits on weekends). Three kinds of stock go into many of the earthy, richly milky broths—all but the vegetarian version—and they're bolstered with chewy noodles, pickled ginger, shredded pork, and softly boiled eggs. The deep, wide bowls are meals in themselves, but it's worth paying attention to the specials menu, which might hold such pleasures as sesame-laden dan-dannoodles and galbi-style Wagyu beef.
Open: Monday through Saturday for lunch and dinner.
Don't Miss: Toki Classic and red-miso ramen; steamed chicken and pan-fried pork dumplings; chocolate-chip cookies with red-miso buttercream and milk; Little Clouds cocktail, with sake, lemongrass, and ginger.
---