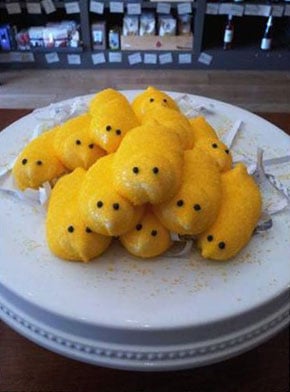 Move over, chocolate bunnies: We have a new favorite springtime treat. Cork chef Kristin Hutter debuted "drunken Peeps" last year, a house-made version of the classic marshmallow bird spiked with liqueur. Needless to say, the small dose of booze made these little chicks even more irresistible. We asked her for the current recipe, which adds limoncello to the mix.
Don't be too intimidated by making homemade marshmallow—you just have to have a little patience for stickiness (and a candy thermometer). If playing mother hen to a gaggle of liquored-up Peeps sounds too difficult, Cork Market plans to sell the lemony confections and a Chambord-raspberry version through the weekend.
Drunken Peeps With Limoncello
Makes 20 Peeps
Ingredients
5 teaspoons powdered gelatin (usually 2 envelopes)
¼ cup limoncello
¼ cup water
5 ounces light corn syrup
1½ cups sugar
1⁄8 teaspoon kosher salt
Colored sugar to coat each Peep
Special equipment
A stand or hand mixer
Candy thermometer
Optional
4 to 5 ounces cornstarch
4 to 5 ounces powdered sugar
Dark frosting for making the Peeps' eyes
Make the marshmallow:
Add gelatin and limoncello to a standing mixer, or if using a hand mixer, a large bowl. Allow to rest for 5 to 10 minutes. Stir to blend.
In small pot, add the water, corn syrup, sugar, and salt. Bring to a boil over medium heat. Cook until a thermometer registers 240 degrees.
Slowly pour the sugar mixture into the standing mixer or bowl with the gelatin. Whip with the whisk attachment on medium/high until the mixture is thick and stiff peaks form. Cool to room temperature.
Shape the Peeps (two methods)
Piping bag:
Add the marshmallow mixture to a pastry bag fitted with large round tip.
Pipe peep figure onto lightly greased aluminum foil. Sprinkle immediately with your choice of colored sugar and let dry, about 2 to 3 hours. Dot each with frosting eyes if desired.
Cookie cutter:
Pour marshmallow from mixer onto a half-sheet cookie tray that's dusted with a mixture of half cornstarch and half powdered sugar.
Smooth the marshmallow with a spatula and dust the top with same cornstarch/powdered sugar mixture. Allow to rest 10 to 12 hours, covered at room temperature.
Cut into desired shapes. Dip them quickly in water or wipe them with a damp cloth in water, then dust them with colored sugar.