A divisive real-estate battle will crank up to a new level Thursday night when the DC Zoning Commission begins hearings on the future of the McMillan Sand Filtration site, a decommissioned water treatment plant and former park, adjacent to the McMillan Reservoir, that is targeted for massive redevelopment.
Tonight's hearing is the first of three on the 25-acre historic landmark, coming seven years after the District government awarded a consortium of development firms the rights to remake the parcel. But McMillan's history as a civic park has riled nearby residents who hope to derail further gentrification in Northwest and Northeast DC.
"There are a lot of people in the community who are outraged by the prospect of putting up high-rises," says Kirby Vining, the treasurer of Friends of McMillan Park, one of the groups leading the opposition.
McMillan, recognizable by its 20 moss-covered silos sitting atop a cavernous network of cells used to filter drinking water through sand, was also the District's first desegregated park when it opened in 1905. It's been fenced off since World War II. The filtration plant was decommissioned in 1986. Biannual tours were allowed between 1987, when the District government purchased the site, and 2012.
The city plans to allow a mixed-use development with apartment buildings, office space, restaurants, and stores to revive the Frederick Law Olmsted-designed area. The current redevelopment plan calls for 2.1 million square feet of new property, including 150 townhouses, 520 apartments, 30,000 square feet of retail, a 50,000-square foot grocery store, a 17,000-square foot community center, and a 1 million-square foot health care facility. It would also leave 12 acres of park land, with all 20 historic silos left intact, though nearly all of the underground campus would be demolished.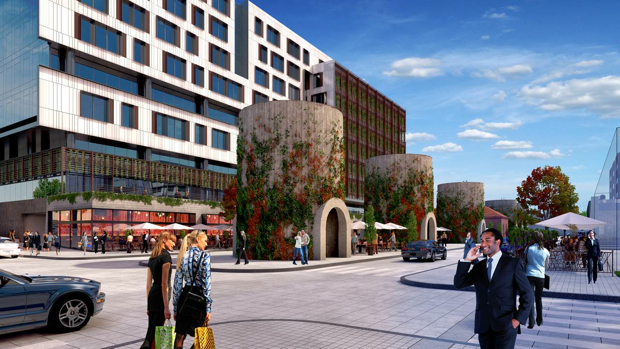 Friends of McMillan is seeking to have "party status" in the zoning hearing, which would put the group on equal footing with the redevelopment group, Vision McMillan Partners. That would permit the anti-development advocates to cross-examine city officials and developers and subject the process to greater legal scrutiny. Vining says he has five or six witnesses lined up for tonight's hearing.
The District awarded Vision McMillan Partners—made up of firms Jair Lynch, EYA, and Trammell Crow—the rights to remake the site back in 2007, but Vining points out the process was uncompetitive.
"What comes with it is offensive," Vining says. "I'd like to see it opened up as a park."
Civic groups in the Bloomingdale and Stronghold neighborhoods that border McMillan want Vision McMillan Partners to scale back the building designs and add more green space and parking spots.
Even altering the redevelopment plan is a long shot, even though DC's Historic Preservation Review Board asked the developers to downsize their plans when they approved the overall plan. The Zoning Commission could asked for more modifications, but will most likely let the development go forward.
But before that happens, development buffs, historic preservation enthusiasts, real-estate reporters, and zoning commissioners may want to invest in earplugs. Vining's members plan to show up to tonight's hearing in force, and "those people may get very emotional," he says.