In March 1922, the New York Evening World reported from a convention of radio manufacturers and enthusiasts at Manhattan's Pennsylvania Hotel, where attendees marveled at the radio's "reception of several voices at once from various parts of the country," taking umbrage only when the voices interrupted one another "quite discourteously." Radio was barely more than a fad at the time, its development as a business hindered by a lack of rules. What was needed, the Evening World said, was a governing body that would rid the industry of charlatans and establish technical standards.
A month later, makers of radios gathered at Delmonico's restaurant on Fifth Avenue to plan their first trade group, the National Radio Chamber of Commerce. By 1950, the group had moved to Washington and incorporated television, becoming the Radio Television Manufacturers Association, then, in 1957, the Electronic Industries Association (EIA).
In 1999, the EIA's expanding personal-gadgets wing decided to go out on its own, as the Consumer Electronics Association. Shortly thereafter, the EIA dissolved altogether into separate associations. In 2009, one of these, the Government Electronics and Information Technology Association, joined with an alphabet soup of other firms—including one founded by David Packard in 1943 to help West Coast companies get their fair share of federal business—to form TechAmerica.
The technology lobby in Washington has been merging, splitting, and recombining like this for nearly a hundred years, mirroring the life cycles of innovations that start as fads and grow into dominant technologies. The constant morphing is often aimed at giving tech firms a unified front in DC—paradoxically, because the regrouping also means that such a company usually pays dues to several trade groups, each with a different profile and purpose.
Google, for instance, belongs to the 2,000-member Consumer Electronics Association (CEA), which sponsors a sprawling electronics expo in Las Vegas every January, and to the 56-member Information Technology Industry Council, known as ITI, an Olympus from which the industry's often squabbling giants dispense policy pronouncements in a single voice.
In 2012, Google also joined with Facebook, Amazon, and others in the Internet Association, chiefly to draw attention to the internet's transformative power and to guard its survival as a platform.
"In Washington, you don't often win battles all alone," says Representative Darrell Issa, a California Republican who, while making his fortune in car alarms, merged the Vehicle Security Association, which he'd cofounded, with the Mobile Electronics Association. "Even in DC, there's a level of efficiency."
• • •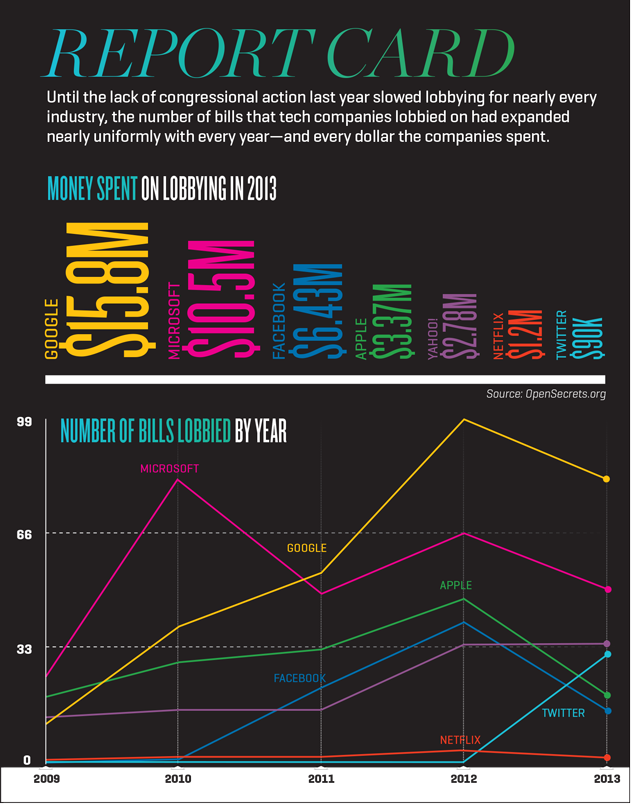 Officials at the various associations, though nominally competitors, tout their collegiality: They host events together, e-mail ideas, and cosign letters to Congress, such as the one backing immigration reform sent last year in the name of "the leading technology innovators, designers, manufacturers, entrepreneurs, and job creators in the United States."
The cooperation has been essential for pushing, both in public and behind the scenes, to address NSA surveillance, raise the profile of patent reform, and tackle immigration reform.
"We're all on the same team," says Gary Shapiro, an energetic 57-year-old lawyer who engineered the Consumer Electronics Association's break from the Electronic Industries Alliance a decade ago and is now CEA's president and CEO.
That spirit of collaboration, though, was tested last November, when four TechAmerica government-contracting experts abruptly resigned at 4 pm on a Monday. The next day, all four turned up for work at ITI. It took only days for TechAmerica to file suit against ITI for $5 million, charging that three of the employees had, on behalf of ITI, poached tens of thousands of pages of information detailing TechAmerica's procurement work.
The sides agree that the suit is a simple dispute about what professionals owe their firms when they leave, but some insiders say more is at stake. Some see TechAmerica—which has had a few financially shaky years—as fighting to hold the line against further financial losses. Others say ITI overstepped in its continuing attempt to grow beyond pure policymaking and get into procurement: In 2012, the firm was in talks to merge with TechAmerica and a group called TechNet, without success.
Seen in terms of the technology lobby's permanent state of revolution, however, the dustup between TechAmerica and ITI can look like a fight for relevance. As the industry becomes more focused on the web, the new, hot internet tech firms often don't have a product to sell the government and thus have no need for procurement help, which is TechAmerica's bread and butter.
Nor does a Twitter or Yelp face the full slate of policy issues that brought old-line firms like Corning or Qualcomm to ITI. And when they do want policy help, those who live or die on the web don't necessarily agree with the hardware makers. It's hard to pitch yourself as the tech industry's unified voice when the industry itself is increasingly split.
• • •
The internet was slow to take hold in Washington. When Facebook established its first missionaries in the capital in 2007, congressional and agency staffers were less interested in the company's white papers than in learning how to set up killer profiles. When Google arrived here a couple of years earlier, it was expected to sign on with the established trade groups, casting its lot with behemoth packaged-software providers and giant telecoms.
Less than a decade on, it's not unusual to see a senator rushing off to a hearing with an iPad under one arm, knowing that the muted gleam of brushed aluminum offers a hint of West Coast hipness.
"Political leaders like to associate themselves with great brands," says Alan Davidson, Google's first rep in DC. And no wonder: While Congress's approval ratings are regularly in the teens, the internet polls uniformly well.
The internet camp showed its new power in defeating the Stop Online Piracy Act (SOPA) in early 2012. Backed by the powerful Motion Picture Association of America (MPAA) and music-industry lobbies, the bill offered Congress a chance to take a tough stand against copyright infringement. But a last-minute uprising of online activists and tech executives crushed it, arguing that SOPA would stymie the flow of information.
The victory stunned Washington. It was further proof that the internet companies "can stand on their own two feet," says Michael Beckerman of the Internet Association, which was formed in the wake of the SOPA vote.
ITI president and CEO Dean Garfield, who came to his post from the MPAA in 2008, was well positioned to see the change in the tech industry's attitude. "For a long while, our philosophy was just 'We'll engineer around whatever policy they come up with'," he says. "That has shifted pretty dramatically to 'We should be a part of engineering the policy to make sure that it doesn't get in the way of our engineering.' "
The SOPA victory showed how the internet threatens to reshape lobbying. What stacks up in advocacy fights is no longer just money and the power of a brand. After all, the MPAA's budget dwarfed that of its opponents, and Hollywood can bring an endless supply of glamour to bear on a problem. The tech companies have evened the playing field, Garfield says, with "expertise, creativity, and technology." He calls it a "democratization of how policy moves."
• • •
Nowhere is that leveling more apparent than in the technology trade associations that have sprung up in the past three years. In spring of 2011, tech-trade-association veteran Jon Potter called Jake Ward, a former Hill aide and PR executive, to float the idea of a trade association for app developers.
"I said, 'Who?' " Ward recalls. "He said, 'You know—the people who build the things that go on your phone.' A little bulb went on."
Since launching the Application Developers Alliance at the Consumer Electronics Show in 2012, the two men have enrolled 175 companies, many of them one- and two-person firms, that previously had no voice in Washington. "Nobody would have them," Ward says. Now these tiny firms have a team of 15 working for them in an office near Metro Center.
Other new associations don't bother taking office space in the District. Engine Advocacy—founded over a Silicon Valley lunch in 2011 by Josh Mendelsohn and Mike McGeary—represents small start-ups (though lately it's added Mozilla, Uber, and Yelp) as "supporting partners" without leaving California. Instead, they're putting their energies toward affecting policy in what McGeary calls the "zero minutes a week" that the average start-up founder has to focus on it, by using online tools. Last summer, the firm's Keep Us Here campaign invited technologists to, with a few clicks, contact Congress about comprehensive immigration reform.
Like his more established counterparts, McGeary—a bearded Bay Area denizen who did fieldwork for the 2008 Obama campaign—sees other tech trade associations "not as competitors but colleagues," a sentiment echoed by several executives in this next wave of internet associations.
But that's not how Silicon Valley thinks. "You don't care if you blow up everything else," Potter says of the internet mindset. He offers the example of the ride-on-demand company Uber: " 'What do I care about the taxi industry? Look what I can do.' There's a natural inclination for the smaller companies to be more aggressively innovative. They're like, 'What does it matter how it's always been done?' "
• • •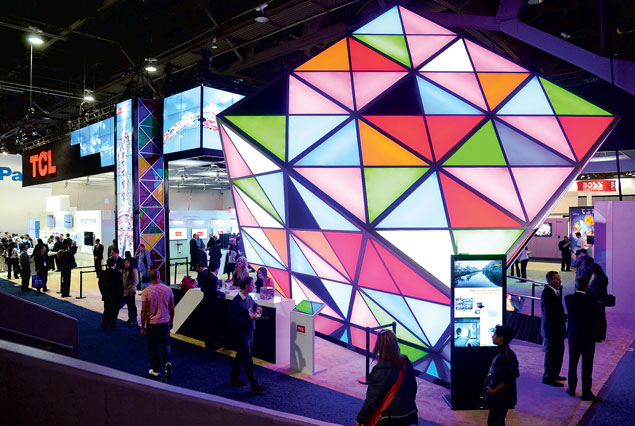 There's something to be said for how it's always been done, of course. Associations tackle the issues that are too politically hot or too petty for the companies themselves to handle. The Consumer Electronics Association's Gary Shapiro points to the 2008 "card-check" battle over union-organizing rights. "There wasn't a CEO I met in the technology world that wanted to see card-check pass," Shapiro says, but they were reluctant to say it in public. So CEA said it for them.
Associations can also stay laser-focused, administration after administration, CEO after CEO, on issues that are fringe to any one company's interests but meaningful to the industry as a whole—state laws on electronics recycling, say, or the long campaign for the airplane-mode setting, after the 1988 Lockerbie bombing threatened a complete ban on gadgets on planes. Says Shapiro of the battle over onboard electronics: "It really is a 30-year fight."
He takes credit, after years of work, for introducing "patent trolls" (those who buy up patents with the sole purpose of filing lawsuits) into Washington's lexicon. CEA staffers wedged the term into hearing testimony on the Hill and even hired someone to dress as a troll for the firm's holiday party. The strategy paid off when President Obama, in an online Google Hangout last year, jumped right into an answer after being asked about "trolls."
CEA's most influential work, though, may take place not in Washington but at the Las Vegas Convention Center, where some 150,000 gadget geeks, journalists, company reps, and politicians mingle at the Consumer Electronics Show (CES), a four-day extravaganza of product demos, press conferences, and meetings. (The agreement to make Netflix content stream faster on Comcast's networks was reportedly made this past January at the 2014 CES.)
The show is a chance for lobbyists to get visitors from DC jazzed about breaking technology before the legislators' reflexive desire to regulate can kick in. Shapiro says House Judiciary Committee chair Bob Goodlatte, a Virginia Republican, attended CES just as he was taking over that critical panel: "It totally changed his whole view of the world."
The two-year-old Internet Association is also moving its efforts away from K Street to show its targets the web at work. It has hosted "small-business crawls" in far-flung congressional districts to make the point to members that the corner bakery depends on the internet.
• • •
It makes sense that the internet will disrupt lobbying, just as it has upended commerce and publishing, decentralizing the action and circumventing the traditional gatekeepers. And it follows that the technology lobby would be disrupted first.
As with those other industries, there's no reason to believe that the old-school tech-lobbying firms will disappear, either altogether or quickly. "This is the only organization where you have that traditional government contractor at the table with Google and Facebook," says Mike Hettinger, who joined TechAmerica to shore up its government-contracting department after the four employees' departure. The Lockheed Martins and Northrop Grummans of the world, Hettinger says, have plenty to teach the big internet companies about the ways of Washington.
For its part, ITI—with dues of up to $340,000—is profitable and growing both here and abroad, recently adding an office in New Delhi.
The current dispute between the two firms may only be an exaggerated form of the industry's accustomed creative destruction—the usual morphing happening at internet speed. And while some agree that the pace of change takes getting used to, most industry veterans express regret that the flap has found its way into court.
Merging and splitting and merging again is what trade associations do, Darrell Issa says. It's been going on for a century. But he warns: "Anytime there's these sort of conflicts, it tends to destroy the organizations involved."
Nancy Scola (nancy@nancyscola.com) is a journalist who covers the intersection of technology and politics.
This article appears in the May 2014 issue of Washingtonian.