Offering an income-generating rental alongside an owner's home isn't exactly novel for the Washington real estate market. But this place? It has nine. English basements, these are not.
After Pierce School fell into disuse and later, disrepair, the building was purchased from the city—for a bargain price of just $275,000 in 2000—and has since been transformed into a set of large loft rentals, with a massive owner's unit taking the crown penthouse position. Said owner's unit holds court as one of Northeast DC's most unusual properties, taking up more than 9,000 square feet and reincarnating classrooms as living areas, a huge gourmet kitchen, and a giant office, plus four guest bedrooms and a 14-person theater complete with seats from an old airplane. The building's former life peeks out via chalkboards and lockers incorporated into the design, and hints of the original architecture take the spotlight in the soaring ceilings, oversize windows, exposed brick, and hardwood floors. A sprawling 800-square-foot private deck and glass-walled sun room offer panoramic views on the rooftop. And beyond the nine rental apartments, the rest of the building offers up a community fitness center and a secluded, sanctuary-like 38,000-gallon pool.
The entire building went on the market in the fall of 2013, and has since dropped $750,000 to sit at its current price of $6.5 million. Check out photos of the industrial-luxe penthouse below, then head to TTR Sotheby's for the complete details.
Find Michelle Thomas on Twitter at @michellethomas4.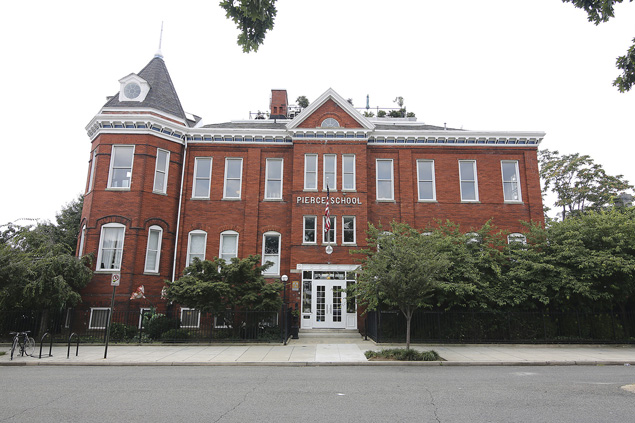 You Might Also Like: