Daniel Boulud grabs a blow torch and begins gleefully flambéing a baked Alaska on the dining table. He cuts two slices, grabs a spoon ("I love ice cream"), and digs in.
Boulud is one of many celebrity chefs to arrive in Washington of late, with a branch of his Manhattan-based DBGB Kitchen and Bar, opening on Saturday in CityCenter (fellow New Yorker David Chang will follow with a Momofuku spinoff next year). Blowtorches included, the international restaurateur seems promisingly hands on.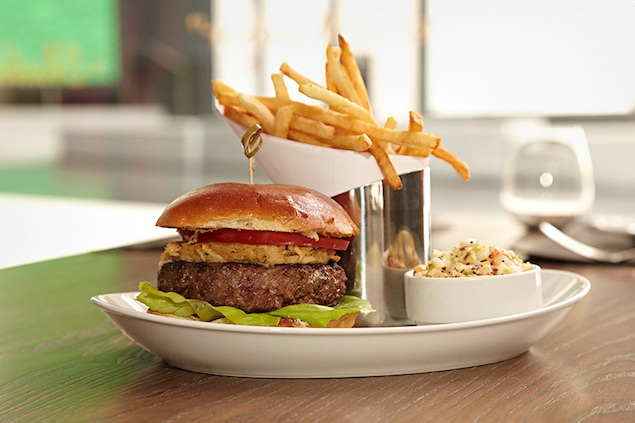 Washington roots don't hurt. Boulud spent part of his early career here in the '80s at the European Commission and counts many of the city's long-established toques as old friends. Eschewing the steakhouse-in-a-hotel model other big-name restaurateurs rely on, Boulud's Franco-American brasserie already feels personal. A modest dining room for 75 helps—an additional 50 can fit in the bar and two private rooms—as does the wall art. A bounty of local chefs and Boulud contemporaries such as Thomas Keller and Alice Waters designed plates for the restaurant, each depicting different aspects of their personalities (Volt chef Bryan Voltaggio's plate shows a silkscreen of his smiling face, while bad-boy brother Michael drew a skull with roses for eyes).
"Burgers, bangers, beer, and rock and roll is what DBGB is about" says Boulud, looking around him at the plate art. "But this isn't Planet Hollywood, it's planet chef."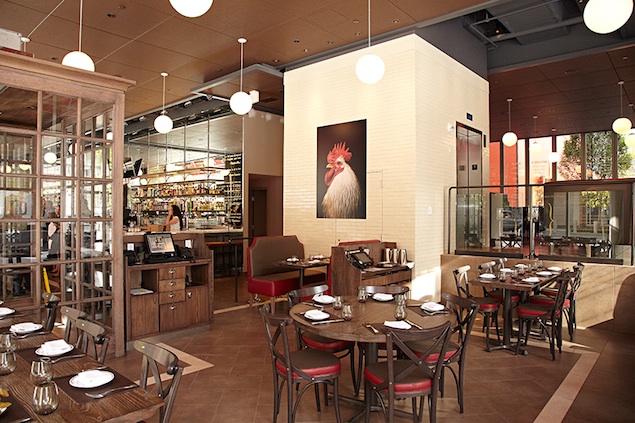 The menu, too, is tailored to DC. Many new dishes draw from local ingredients and culinary traditions, such as the crabcake-topped "crabbie" burger, or Chesapeake fluke grenobloise with cauliflower, capers, and grapes. Others are borrowed from Boulud sister concepts such as the Mediterranean Boulud Sud and Michelin-starred Cafe Boulud. Executive chef-on-the-ground Ed Scarpone comes most recently from the latter, bringing items with him like fried chicken with watermelon and frite de grite (grits slow-cooked with chicken fat, cut into batons, and crisped to order).
That's not to dismiss the DBGB classics. About half the menu carries over from the original, including a global array of house-made sausages such as French-style boudin blanc with truffles, or Thai pork sausage with chili sauce and and basil-fried rice. The burgers, another staple, can be ordered individually or ménage à trois-style: all three patties—classic, crab, and pork belly-topped—for sharing.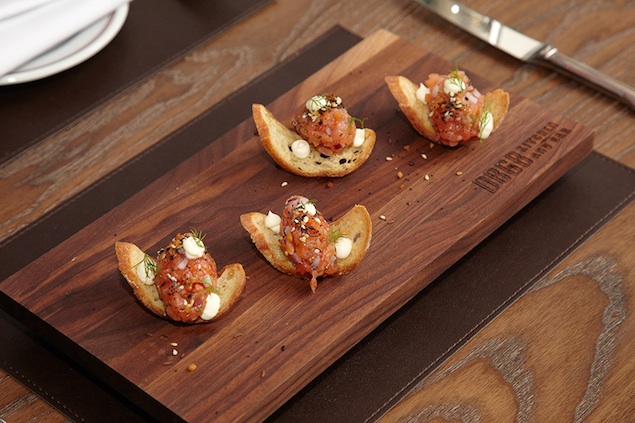 Another signature, the "whole-hog" dinners, will start in the next few weeks. Large groups of 10 to 12 reserve the feast 48 hours in advance, and are served a bounty of appetizers, sides, and the star: a whole roast suckling pig stuffed with pork loin, chestnuts, and mushrooms. The dessert is baked Alaska, but you don't need to reserve a pig to try it. A knockout dessert menu includes the Boulud favorite, alongside two-scoop sundaes and rocky road profiteroles.
DBGB DC will be Boulud's 15th eatery when it opens on Saturday, but he shows the excitement—without quite the nervousness—of the first.
"I feel like the new kid again," he says.
DBGB Kitchen and Bar. 931 H St., NW; 202-695-7660. Full hours: Lunch Monday to Friday 11:30 to 2:30, dinner Monday to Thursday 5 to 11, Friday and Saturday 5 to midnight, and Sunday 5 to 10. Brunch Saturday and Sunday 11 to 3. Bar service nightly until midnight.