Every October, Washingtonians point their cars toward Shenandoah National Park in Virginia, and for good reason: With the brilliant fall foliage, it's a great time to take a hike.
We suggest going into the park at the Thornton Gap entrance. The drive from Washington then takes you along scenic Route 211, past vineyards, farmland, and wildflower meadows. Before entering, you can buy fresh-picked apples to take on your hike from Thornton River Orchard.
After entering at Thornton Gap, at mile marker 31.5, drive south on Skyline Drive. You'll enjoy sweeping views of the Piedmont Plateau in the east and the Shenandoah Valley in the west, easily seen from numerous overlooks.
If you're up for a hike, park at the Meadow Spring parking area just after mile marker 33 and then find the Meadow Spring Trailhead on the other side of the road. The first half mile of the 2.8-mile hike is steep, before you turn right onto the Appalachian Trail. On the trail, the surrounding forest changes to a riot of fall colors: Hickory leaves turn gold, red-maple trees become garnet, sumac bushes transform to shocking purple and red—all against the backdrop of speckled rocks with patches of lichen and moss.
The hike's payoff, Mary's Rock Summit, is one of the few peaks in the park with a 360-degree view. Hikers report seeing birds of prey and bears in this area. To return, retrace your steps for a hike that takes a total of two to three hours, depending on your pace.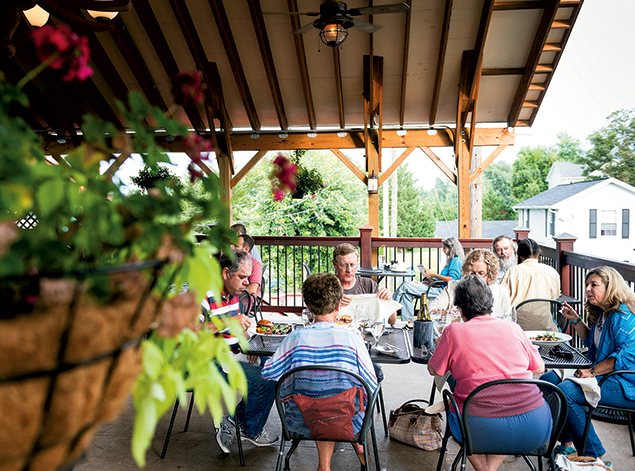 Afterward, you might visit the quaint town of Sperryville, directly outside the park on Route 211. This pastoral village in the foothills of the Blue Ridge Mountains is known for its bountiful farms and first-rate antiques shops.
Thornton River Grille, on the main thoroughfare, is one post-hike dining option. The rustic bistro, featuring fresh-cut steaks and burgers, serves breakfast, lunch, and dinner on Saturdays, brunch and dinner on Sundays. In good weather, you can dine on the rooftop deck (open weekends only).
About a half mile away is Sperryville's River District Arts, a former apple-packing plant that is now a multi-use facility housing art studios and a restaurant. You can refuel with a signature sangría and tapas at El Quijote, a new Spanish restaurant, and then wander through the galleries to see artists working in ceramics, textiles, paint, and photography.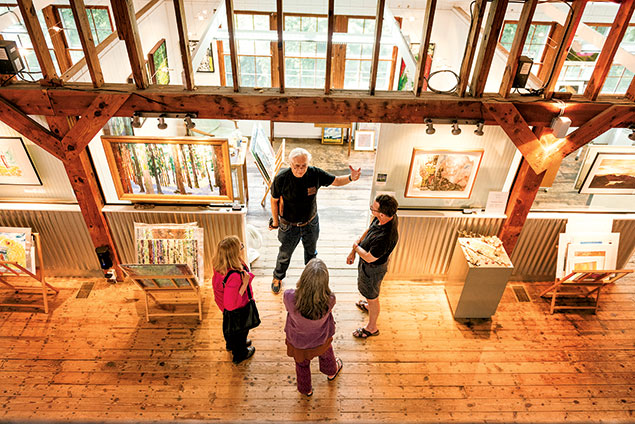 Directly behind River District Arts is Copper Fox Distillery. Inside the yellow warehouse awaits an entertaining tour demonstrating how spirits are made. In the past, the family-owned facility brewed apple cider, but it now produces small batches of malt whiskey, rye, and gin. You can sample a few or bring a bottle home.
Before heading back, walk next door to Copper Fox Antiques, a 30,000-square-foot warehouse originally used to store apples. Today it's full of European, Asian, and American furniture, salvaged items, and collectibles.
Renee Sklarew (reneesklarew@gmail.com) is a travel writer in Washington. This article appears in the October 2014 issue of Washingtonian.