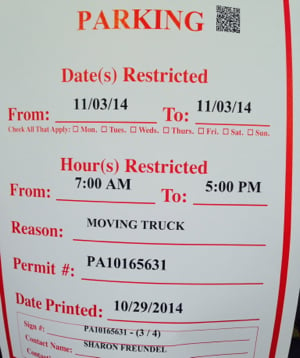 Moving trucks are scheduled to show up at the Georgetown home of Rabbi Barry Freundel Monday, according to signs posted in front of his home on O Street, not far from the Kesher Israel synagogue that provided the house for its longtime religious leader.
Freundel was arrested October 14 and charged with six counts of voyeurism for allegedly hiding video cameras in the synagogue's mikvah, a ritual bath, to record women as they undressed and showered before entering. Police officers were seen carting computers and hard drives out of Freundel's house on the day of the arrest.

Freundel, 62, pleaded not guilty and was released on his own recognizance, while police and prosecutors investigate videos and forensic evidence. He is scheduled to appear before a status hearing on November 12. The US Attorney's office has set up a website for potential victims.
Signs posted on the street listed Freundel's wife, Sharon, for contact information. Calls to her were not returned. The O Street home, which is owned by a trust with ties to Kesher Israel, has been the Freundels' home for at least 16 years. Fruendel has been rabbi at Kesher Israel, a modern orthodox synagogue, since 1989. The congregation includes such luminaries as former Senator Joe Lieberman and Treasury Secretary Jack Lew.
In addition to being Kesher Israel's spiritual leader, Freundel has also been a visiting professor at several colleges around Washington and an administrative leader in the greater Orthodox community. He held teaching positions at the University of Maryland, Georgetown Law School, and Towson University. He was suspended from Kesher Israel and the universities following his arrest.
Students in Freundel's classes at Towson University told investigators he encouraged them to use the National Capital Mikvah, opened next door to Kesher Israel in 2005.
The Rabbinical Council of America, the country's primary group for Orthodox rabbis, reported that it had received complaints in 2012 from women about Freundel forcing them to do clerical work, but none led to any disciplinary action. The organization has also suspended Freundel from its ranks since his arrest.
Meanwhile, investigators have found enough evidence to charge Freundel with six counts of spying on women, but they are checking video cameras and computers they seized from his home and his office at Towson University for more evidence.
There is no indication where Fruendel and his family are headed.
Find Harry Jaffe on Twitter at @harryjaffe.