What is Richmond 2015?
One of professional cycling's most prestigious events has come to Richmond, about 90 miles south of DC and an easy day or weekend trip. At the UCI Road World Championships, 1,000 of the world's best cyclists will compete for nine days on courses packed with the turns, hills and cobblestones of Richmond's streets.
An estimated 450,000 people are expected to show up for the excitement. Luckily for them, Richmond is a great place to visit even when there isn't a world-class sporting event underway. The championship has so transformed this charming Southern city that the event is being referred to as simply Richmond 2015. Here's how to get in on the fun:
Where to watch:
If you want a premium view of the finish line (along with some catering and cocktails) you can spring for a spot in the VIP Pavilions, but the races are free and open to the public. Spectators looking for extra excitement should try to find a hilly spot like 23rd Street and Monument Ave or Libby Hill, where racers have the best chance at overtaking one another on the course.
There will be plenty of celebrating in the neighborhoods surrounding the track, including food trucks near the finish line, a beer garden on Governor Street and Broad, and patio seating at restaurants overlooking the routes like Max's on Broad and My Noodle & Bar. For fans who prefer to spectate from inside, the newly-opened Quirk Hotel's Maple & Pine offers a view of the race through floor-to-ceiling windows.
Who to Watch:
Peter Sagan
This 25-year-old Slovak is a favorite for the men's road race, with multiple victories in the Tour de France and Vuelta a Espana under his belt. "He looks like he has fun riding, but he's also really strong," says Andy Stites of Richmond's Carytown Bicycle Company. "He's an exciting rider."
Tony Martin
In the Time Trial, riders race against the clock. And nobody beats the clock better than Tony Martin. The German national champion has won the Road World Time Trial three times in the last four years. "I really like Tony Martin," says Greg Milefsky, owner of Richmond's Balance Bicycle Shop. "He just seems like a good guy, and his style of riding is interesting to watch."
Lizzie Armitstead
Named by Cycling Weekly as one of "Five Brits to Watch" at Richmond 2015, Armitstead has had a busy summer. In June, she won the first stage of the 2015 Aviva Women's Tour, only to suffer a damaging crash right after crossing the finish line. She went on to win the British national championship and is well-positioned to win again at Worlds.
Ben King
This cyclist will have a distinct advantage when he competes in the Elite Men's category in Richmond—he's from there. Born in Henrico County and raised in Charlottesville, this is King's first Worlds since competing in Copenhagen in 2011. He'll no doubt benefit from his familiarity with the city's winding roads, not to mention all those supportive faces in the crowd.
Other things to do while you're there:
The Lewis Ginter Botanical Garden
The Road World Championship and Richmond's award-winning Botanical Garden are a likelier pair than you might think. The garden's Bloemendaal House was originally a bicycle club called the Lakeside Wheel Club. Located at 1800 Lakeside Avenue, the picturesque spot will serve as the start venue for the men's and women's team time trial events. "We have this wonderful history and a very natural connection to bicycling," says Director of Public Relations and Marketing Beth Monroe. "I think the garden is a great place for fans and also for those who maybe aren't as hardcore." The garden will host a themed walk, and stay open late (until 8 p.m.) on September 21-25, for evening events with live music, food and drink. The grounds include a children's garden with a treehouse and "international village" of playhouses modeled after homes from around the world. All additional events are included in the regular garden admission. $12 for adults, $8 for children and $11 for seniors.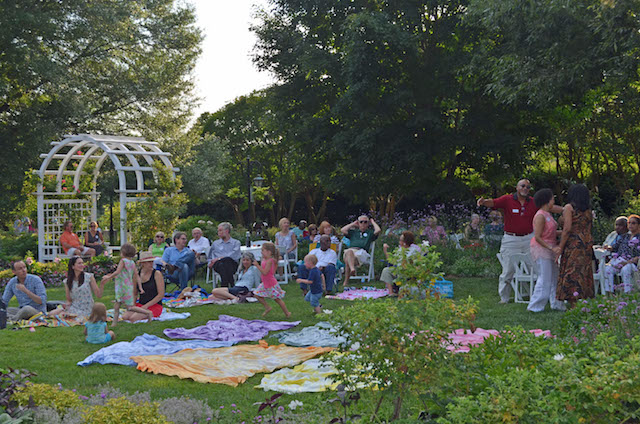 Brown's Island Outpost
You won't have to cross to the south side of the James River to enjoy watersports — a reprieve, perhaps, from the swarms of spectators. Riverside Outfitters is has set up an outpost on Brown's Island in downtown Richmond for the World Championships. The outdoor excursion company is offering kayaks, paddle boards, and guided rafting trips through the Class III whitewater rapids that run through town. Or, if you haven't tired of cycling, rent one of their mountain bikes and ride alongside the canal.
Science Museum of Virginia
The Science Museum of Virginia started celebrating Richmond 2015 in May with "Bikes: Science on Two Wheels." The hands-on exhibit explores the science of cycling from all angles: energy, force and motion, aerodynamics and engineering, as well as the evolution of the bicycle itself. "We had heard that the bike race was coming and we thought this was a great fit to tie in with what was happening," said Chrissy Caldwell, Manager of Communication and Curiosity. The exhibit will be open for the duration of the championship (closing on September 27) but the museum is also provides an escape from bike-mania. As Caldwell points out, there are three floors of interactive exhibits and a domed theater with a daily variety of shows, so "you don't have to worry about just liking bikes to come to the museum and enjoy it." $11 for adults $10 for kids and seniors
Conquer the Cobbles
Cycling fanatics: Imagine you are racing the champions as you toil up Libby Hill's cobblestone switchbacks. On Friday night, Sept. 25, eager fans can be the first to ride the same 10-mile road circuit course that will host the world championships the next day. Anyone can register for the event, but riders must be prepared for it to be challenging and technical. Front and rear lights are required. 7-9p.m., Tickets are $125-$135
Where to eat:
According to our food critic, Todd Kliman, Richmond is worth a weekend trip for its restaurant scene's "unselfconscious liveliness." Here are a few recommendations from Washingtonian's guide to eating and drinking your way through the onetime capital of the Confederacy:
Can't-miss cocktails
John Maher at the Rogue Gentlemen (618 N. First St.; 804-477-3456) is so serious about his drinks that he printed up a book, handsomely bound, for his menu. A Maher drink is both bracingly stiff (shades of the great bartenders of yore) and supremely balanced (in keeping with the tenets of the mixological moment). Sip and savor his Bear Hug, made with ten-year bourbon, Fernet-Branca, Cynar, and Becherovka, and halfway through, your tongue will undoubtedly be looser.
Best breakfast
Get to Perly's (111 E. Grace St.; 804-332-6434), park yourself on one of the mint-green stools facing the old-fashioned bar, and take in the buzzy scene: hipsters and families with young kids all cramming in to experience a newfangled, artisan-driven deli that would rather you experience it as old-fangled and unassuming. The good mood only gets better with a smoked-whitefish platter, a cup of good strong coffee, and—we can't resist—an egg cream.
Afternoon pit stop
A brother-and-sister tandem from Reston, Evrim and Evin Dogu—their father operates the small Washington chain Rosemary's Thyme Bistro—runs Richmond's best bakery: Sub Rosa (620 N. 25th St.; 804-788-7672), which features wonderfully rustic, hearth-baked breads in addition to croissants, tarts, and Turkish treats. Any item on the menu, plus a cup of rich, dark coffee from the excellent Richmond roaster Lamplighter (116 S Addison St.; 804-728-2292), provides an oasis in the day.
Distinctly un-DC dinner
Edo's Squid (411 N. Harrison St.; 804-864-5488) is the kind of place you find in a city with a thriving Little Italy—a bit worn around the edges but big-hearted and impossible not to love, even when you have to wait 40 minutes for a table. The dish that speaks to the place's quiet magic sounds so simple as to be unremarkable: braised fennel. It melts in your mouth like butter, while the warm nutmeg cream sauce coats your tongue like fondue. Pay close attention to the list of specials, scrawled on a chalkboard in the bare-bones dining room: A recent special of deep-fried sugar toads (also known as northern puffers) was polished off quickly.