In the movie The Terminal, Tom Hanks finds himself trapped in an airport. Initially daunting, his involuntary home becomes somehow lovable. Would it be any different at Dulles? I decided to find out. Except that instead of playing a stranded refugee, I opted for the hapless soul whose canceled flight leaves him stuck for 24 hours.
Things start off well. After breakfast at a Starbucks, I board the Fairfax Connector bus idling at Ground Transportation. Destination: the National Air and Space Museum's Udvar-Hazy Center. It's a giant hangar whose relics include the SR-71 Blackbird—and a surprising amenity. How many airports have a Smithsonian down the street?
I meander there for a bit, then head outside, where the bus back to Dulles is again waiting for me, as if it never left. There's no line at security, so I set off for Concourse B. I march past portals to exotic destinations, duty-free shops with shoebox-size cigarette cartons, fast food, fine dining, and newsstands with uncomfortably prominent displays for the novelization of the movie Sully.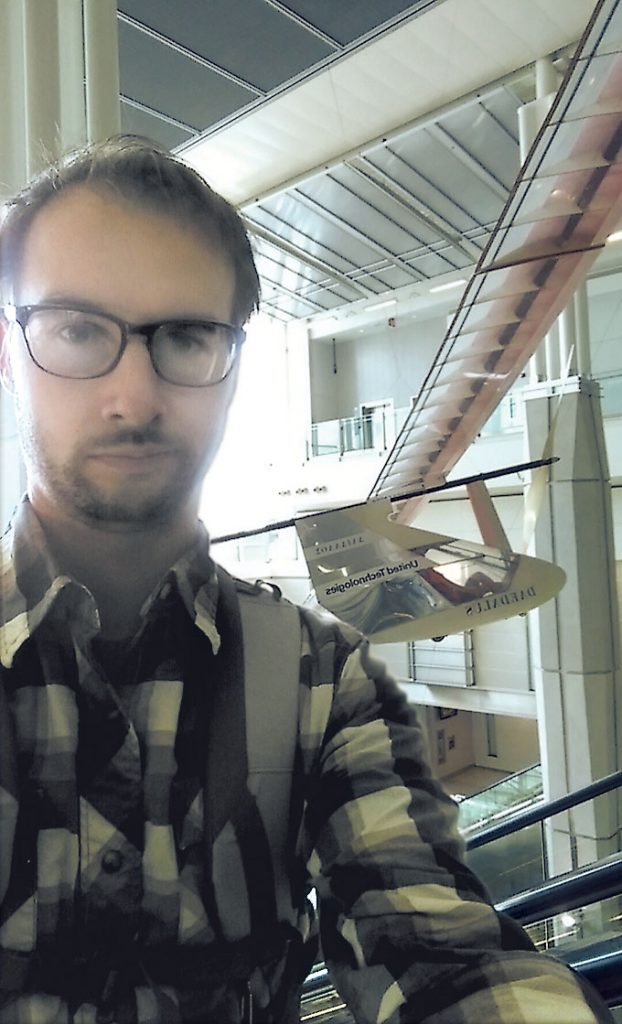 When I reach the end, Concourse B having long ago blurred into Concourse A, I hop onto a mobile lounge. These waiting rooms on wheels present a weirdly awe-inspiring view as you drive alongside massive, taxiing 747s. Judging from the hunched-over necks of my fellow travelers, though, I seem to be the only one who notices.
For lunch, I land on Concourse C's &Pizza, whose unlimited-topping pies are more suited to late night than preflight. I've rarely felt great after consuming one myself and can only imagine the complications it would present during a plane ride. Luckily, I've got time. Extra cheese, please.
After lunch, I catch a different mobile lounge to see where it takes me. Unexpectedly, I end up back where I began, realizing that I've already seen all there is to see. Dulles Airport, beginning to end.
Seventeen hours left.
Seeking advice, I put in a call to Donna McSherry, creator of SleepingInAirports.net, a how-to site for people who want to save money by skipping the hotel. The most recent winner of her annual best-airport-to-sleep-in poll was Singapore's Changi Airport, which could double as a theme park: 24-hour restaurants, a free movie theater, saunas, even a butterfly garden.
How does Dulles, once the pinnacle of modernity, stack up? "Good luck," she tells me.
This is the part of the story when I start to go a little stir-crazy. What aspects of the place can I describe that you're not already familiar with? The sickly-sweet smell of disinfectant? The barely audible Muzak, sporadically interrupted by the crack of inscrutable announcements? The endless fluorescent glare? What I can say is they do not fade with time, do not vanish into the background.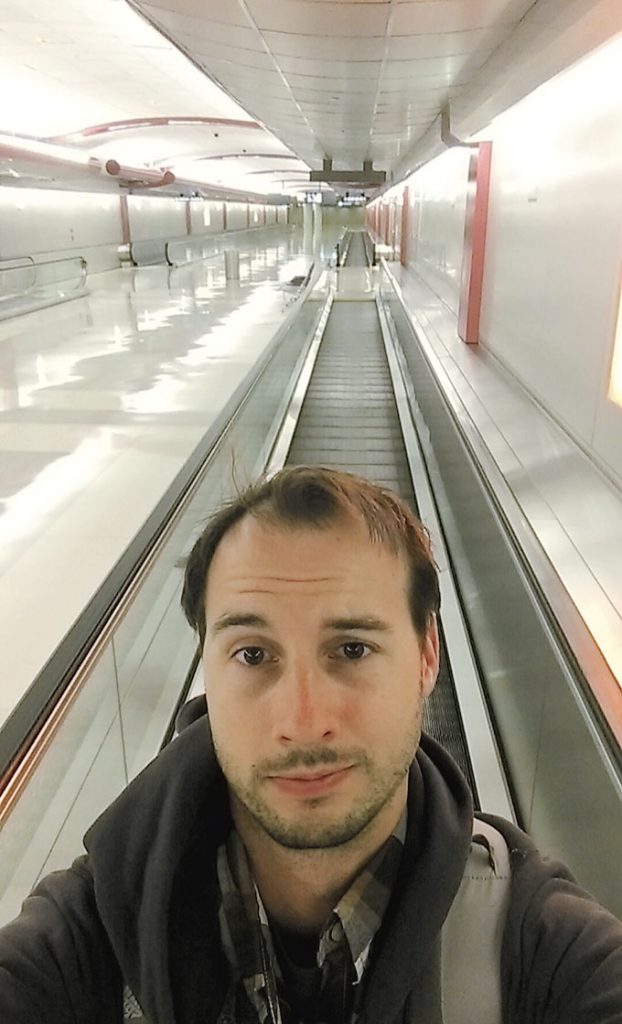 Things might have been different had I picked a more lucrative career. I shuffle past the restricted doors of the Lufthansa Senator Lounge and the Virgin Atlantic Clubhouse, imagining the luxuries hidden away behind the pneumatic doors.
Instead, I opt for an indulgence available to all: a massage. While I always understood this to be a thing you can do in an airport, it seemed forever out of place, like yoga at the motor-vehicle administration. The massage therapist works my back and shoulders. "My goodness," she says. "Who is giving you all this stress!?"
Twelve hours to go.
As the night drags on, the airport empties out. Sometime after 10, I hunker down near the international departures, figuring there'll be more people here. But by midnight the place is desolate and the lack of body heat drops the temperature notice-ably. I watch The Terminal on my laptop. It's not a very good movie.
How do I pass the time? Not quickly, I assure you. A nearby clock seems to be mocking me, its early-morning minutes ticking to its own scornful tempo. Sleep never comes, and I almost—almost—give in to the ultimate temptation: buying one of those ridiculous neck pillows. Thankfully, it doesn't come to that.
Before sunrise, Dulles slowly rustles back to life, the hum of rolling bags on tilles returning. Finally. But then a terrifying thought comes: in a week and a half, I'm flying to Austin. I check the itinerary on my phone and sigh gratefully. The flight's out of Reagan.

This article appears in the November 2016 issue of Washingtonian.