The Washington Post's story about Sunday's shooting at Comet Ping Pong is good local reporting: Faiz Siddiqui and Susan Svrluga's article starts with an account of the episode, then adds quotes from people who were in the restaurant and the area, neighboring businesspeople, and the statement by Comet owner James Alefantis.
But its first report on the incident included something less creditable: Tweets from conspiracy nuts whose moronic "Pizzagate" theory inspired suspected gunman Edgar Maddison Welch to "self-investigate" the restaurant in the first place. Here's a screenshot: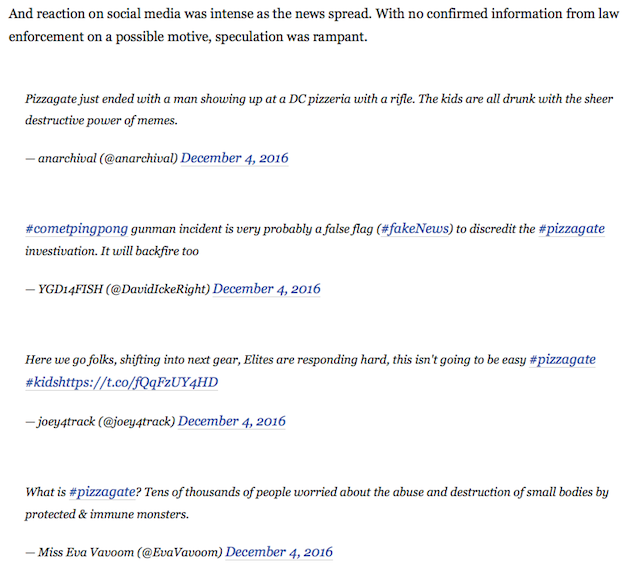 Fortunately, for those of us who still dream that we may once again live in a goddamn civil society, that version of Svrluga and Siddiqui's story seems to have vanished into the maw of history. The Wayback Machine's archive of it has vanished, although NewsDiffs, a website that tracks edits publications make to stories, has a log of changes made to the Post's article. I saw an early version of the story about 4 PM on Sunday, when Washingtonian was still reporting its then as-yet-unpublished article about the incident (which went up at 4:10 PM).
I'm very sympathetic to the constraints of breaking-news reporting—Washingtonian's story at first included a report from one person that no shots were fired, and the DC police later told us at least one was. My former Poynter colleague Craig Silverman—now of BuzzFeed News—has written extensively about the problems of covering breaking events (and about the spread of "fake news"!), but the problem here is less of verification than curation: These tweets are from the same sewer in which the dipshits who've fanned the flames of "Pizzagate" paddle about, and they have no place in a news story.
A Post spokesperson tells me they're looking into the matter; I'll update when I hear back.